Seven More "Remakes" We'd Love Werner Herzog To Direct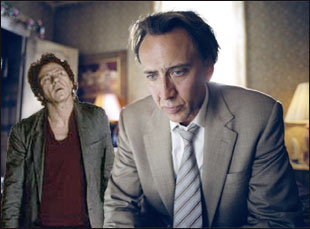 Posted by Matt Singer on
Controversy has followed Werner Herzog's "Bad Lieutenant: Port of Call New Orleans" right from the start. When word got to director Abel Ferrara that his original "Bad Lieutenant" film was being remade by Herzog and star Nicolas Cage, the outspoken director wished the other outspoken director would "die in hell." Herzog's response? "I have no idea who Abel Ferrara is. But let him fight the windmills, like Don Quixote." To which Ferrara shot back, "I'd rather chase windmills than steal other people's ideas. It's lame."
Ferrara's protectiveness is understandable, but his outrage is a little excessive, particularly given that, as Herzog's insisted all along, the new film is a remake in title only. The central premise may belong to Ferrara; this particular execution, with its sweaty atmosphere and iguana hallucinations, is all Herzog. The result is like watching a jazz musician riff on someone else's composition. You appreciate both the original author's intent and artist's interpretation simultaneously. It's something Herzog has done before, too, first in 1979 with his rendition of F.W. Murnau's "Nosferatu" and again just a few years ago, when he remade his own documentary "Little Dieter Needs to Fly" (1997) into the narrative film "Rescue Dawn."
In all of these cases, Herzog's remakes don't negate the original, they build upon them, layering Herzog's unique obsessions atop the existing material (or in the case of "Little Dieter"/"Rescue Dawn," giving the director a chance to work through his obsession once more). As far as we're concerned, Herzog has carte blanche to remake any and every film in his own inimitable style. When you start to imagine the possibilities, they all start to sound good. To wit, here seven examples we'd pay to see. And there are many, many more.
"Predator" (1987, John McTiernan)
Adrien Brody was recently cast in the remake of "Predator" that's going to be executive produced by indie genre guru Robert Rodriguez. After penning the script, Rodriguez handed the directing gig on to "Vacancy" filmmaker Nimrod Antal, which is a shame; this material is tailor-made for a Herzog remake. We're talking about an antagonist who's described at one point in the '87 original in the line, "She says the jungle… it just came alive and took him." The cruelty of nature is a frequent Herzog theme, with the jungle a frequent setting. He's never been a big science fiction guy, but that's fine; his version would just tone down the Predator's alien origins and instead present the creature as a more ambiguous force of primal, ecological terror. In "Rescue Dawn," the jungle is the prison; in Herzog's "Predator," the jungle would be the killer too.
Still, he shouldn't have any problem adapting the original storyline to suit his personal taste: just as in John McTiernan's version, mankind, represented by the elite American soldiers and their enormous weaponry, think they're hot shit, and the Predator comes along to remind them of their place in the universe. Herzog could bring back his "Rescue Dawn" star Christian Bale, giving the more believably ferocious actor lines to growl like, "If it bleeds, we can kill it," which come to think of it, already sounds quite Herzogian.
"2012" (2009, Roland Emmerich)
It's a bit surprising, given Herzog's distrustful attitude towards nature, that he hasn't made a true disaster movie yet. Then again, many of his fiction films are disaster movies in miniature, stories of destruction on a small scale that are often caused or at least hastened by mean old mother nature. As Herzog himself put it in "The Making of 'Nosferatu,'" "All my films come out from pain. That's the source. That's where they come from. Not from pleasure." The disaster movie — where onscreen pain becomes the foundation of audience pleasure — could prove fertile ground for Herzog, and something like the recently released "2012," where the entire planet spontaneously erupts into chaos and every manner of ecological disaster befalls mankind simultaneously, seems like ideal source material.
Since Herzog is known for his intense focus, we wouldn't expect him to recreate Roland Emmerich's more macro take on disaster, nor would we expect to see him reaffirm the power of the nuclear family in the midst of global extinction (more likely, he'd just kill everybody off). Best of all, can you imagine the sort of quotes in the press from Herzog about the Mayans and their predictions and the conspiracy theorists who spread them? The possibilities are almost too delicious to comprehend.
"Twilight" (2008, Catherine Hardwicke)
Herzog already tackled vampires in his version of "Nosferatu." So you know he likes the bloodsucker milieu, and I'm guessing he'd like the material too. Not that his version would look much like Catherine Hardwicke's glossy, romantic take on Stephenie Meyer's epic romance between human teenager Bella Swan and vampire Edward Cullen. Herzog's "Nosferatu" exhibited a deep skepticism about the traditional vampire narrative and its erotic overtones. Receiving a vampire's bite in the Herzogiverse isn't sexy, it's disgusting; the Count himself is a walking cadaver whose physical features eerily resemble the legions of plague-carrying rats he beds down with every morning. That makes Herzog the perfect choice to make a version of "Twilight" that examines the underlying creepiness in a story about a 100-year-old creature swapping spit with a 16-year-old girl. Naturally, Herzog's Cullen wouldn't be anywhere as handsome as the current onscreen Edward, Robert Pattinson. He'd need a contemporary actor who could bring some of the angular corpsiness that Klaus Kinski provided back in 1979, somebody like Adrien Brody. Pair him with a starlet like Evan Rachel Wood, who's already proved herself capable of feigning romantic interest in a man decades older than her in Woody Allen's "Whatever Works," and you have the makings of a classic.