For your consideration: Sandra Bullock…?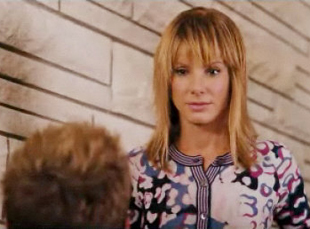 Posted by Vadim Rizov on
This weekend, for complicated work-related reasons, I had to watch "All About Steve," the most-maligned of Sandra Bullock's three releases this year.
If "The Proposal" is Bullock's straight-up romantic comedy and "The Blind Side" is a rare foray into playing middle-aged matron, "All About Steve" is a bizarrely misbegotten anti-romcom. She deploys crazed intensity in turning Mary, the ostensible protagonist, into a mass of twitches in a performance that bears as much relation to your conventional female romantic lead as, say, Cuba Gooding Jr. going full retard in "Radio." Needless to say, it's not very good.
But that's not important, because not only is it Oscar season, it's Thanksgiving week and there really isn't much else to talk about. So contemplate, if you will, the thoughts of Pete Hammond — formerly Maxim magazine's resident blurb-whore, which makes him as qualified as anyone to play awards-season swami.
Hammond is convinced that Bullock has a reasonable shot at a Best Actress nomination for "The Blind Side" because, apparently four slots are already locked, the film itself is performing quite well, audiences love it and Bullock's playing a true-life (or, I guess, "true-life") person and generally doing all the things Oscar nominees do.
I dunno if any of this is plausible, partly because trying to guess Oscar nominations over two months in advance is not my favorite game, and partly because I have zero intention of seeing "The Blind Side." (If Warner Bros. wants to give Michael Lewis, who I love, money for turning his book into saccharine feel-good material, I am totally in favor, but that doesn't mean I have to see it.) I would suggest, however, that if Bullock's going to be nominated, it makes sense — she's clearly thought of herself as a brilliant thespian for a long time now.
Unlike Kate Hudson and Cameron Diaz — two of her main rivals for queen-of-the-romcoms status — Bullock's put a lot of effort into alternating her bread-and-butter staples with all manner of supporting player oddities. It's not just her token serious part in "Crash" (a movie that made a party game out of inviting you to re-evaluate presumably "lightweight" actors). There's also her small turn in Kevin Bacon's queasy, quasi-incestuous mother-son ode "Loverboy," her first effort as a producer on one of her own movies with 2000's infamous violent flop "Gun Shy," and her (failed) Oscar-baiting as a flailing alcoholic in the same year's "28 Days."
Long ago, Bullock was on her way to being a female action star, with turns in "Demolition Man," "Speed" and "The Net." I like to think Bullock's always been a bit bored with trying to be brunette Meg Ryan. In a weird way, a cast-off like "All About Steve" is her way of attempting a showy performance while still (sort of) giving the people what they want. So, an Oscar nom? Why not. She thinks tics, busyness and overt weirdness are the way to go? Stranger things have won awards.
BTW, did you remember that Sandra Bullock once attempted to fill Melanie Griffith's shoes for 12 short episodes of "Working Girl"? It's true:
[Photos: "All About Steve," 20th Century Fox, 2009; "The Blind Side," Warner Bros., 2009]