Roger Avary pioneers jail-tweeting.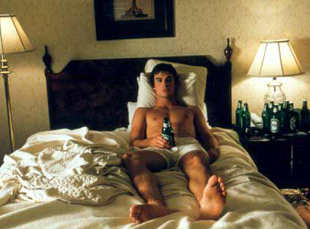 Posted by Vadim Rizov on
Until recently, Roger Avary was a respected if controversial writer/director, best known for "Rules Of Attraction" (easily the best of the Bret Easton Ellis adaptations) and for breaking up with video store-days friend Quentin Tarantino over accusations he was shafted on credit for the "Pulp Fiction" screenplay (he only got a story credit). On the geek side, Avary worked on "Silent Hill," "Beowulf" and a proposed upcoming adaptation of the "Return to Castle Wolfenstein" video game.
None of which seemed to matter after Avary got drunk, crashed his car into a telephone pole and killed one of his passengers. Avary began his one-year sentence on October 25; on the 29th, his Twitter feed began producing some truly frightening screenplay-style updates, seemingly from inside jail: "The building is an imposing example of the Brutalist architectural movement. The windows are designed so as to not let too much light in." "Night falls, and the only real activity is an endless recounting of the terrible and pointless events that brought us all to this sad place." "Long scratched into the black locker are two conjunctive words, never more true: 'TIME' and underneath it 'FUCK'. It has become a mantra." And so on.
It's pretty sad stuff, with Avary transforming his jail time into observational tweets the same way his Twitter was once used to sketch out potential scripts one plot point at a time. Which hasn't stopped certain kinds of jackasses from wondering how this might affect "Silent Hill 2," as if that was all that was at stake. Can people tweet from inside prison? And is it really good for Avary going through what has to be one of the hardest experiences of his life while putting his despair on the record? This isn't the fun kind of train-wreck.
[Photo: "The Rules of Attraction," Lions Gate, 2002]