Want to argue about race? Start with "Precious."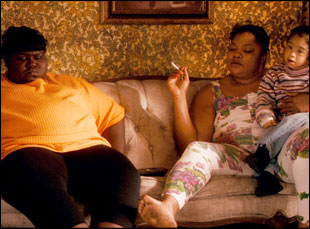 Posted by Vadim Rizov on
Is the sincere yet ultimately bathetic movie that is "Precious" really going to become the new flashpoint for talking about Race in America? We were totally due for a paradigm shift — Spike Lee's had his 20 years — but… this?
It's not just all the arguments about whether or not "Precious" pathologizes and stereotypes black culture. "Precious" can actually be a starting point for any dialectic you want to set up.
For example, look at the way that the New York Times' A.O. Scott bounces, of all things, "The Blind Side" off it ("imagine these movies in dialogue with each other, taking part in a conversation on race that the American public is always supposedly eager to have, but never right now") and concludes the two movies are basically the same, because they rescue one victim of an underlying societal problem without thinking of how to solve the bigger picture. "Both movies tell stories that suggest a way out of poverty, brutality and domestic calamity for certain lucky individuals while saying very little about how those conditions might be changed," he grouses.
It's an argument that actually makes sense — both movies deliver uplifting movies at the expense of rationality — while ignoring the odd fact that, at the end of the day, Little Indie That Could "Precious" will probably make more money and resonate longer than the studio feel-good fare of "The Blind Side." "Precious" has cannily managed to appeal to the arthouse audience, the feel-good crowd, the euphemistically "urban" demographic and awards-lovers at the same time; quite a marketing trick.
So "Precious" is the new must-see if you want to talk about race, even though plenty of people are feeling free to argue over it sight unseen. The most intriguing thing about the film, socially, is that it constructs an entirely black frame of cultural reference: a Harlem tale of a community left to organize itself, whether by choice or abandonment. Which also means it's not a conversation about race: it's containment logic, its own bubble.
It scares me to think that the current "conversation" about "race" is going to center around this stupid little movie that isn't even about race so much as it is about trauma and redemption. This really says more about American sensitivity and prickliness to any possible racism on-screen than larger issues, arguments over representation that get far more heated than arguments over reality. It's just as evasive a feint as privileging the individual redemption over the larger problem.
[Photo: "Precious," Lionsgate, 2009; "The Blind Side," Warner Bros., 2009]