Pennan vs. Forks, towns made touristy by movies.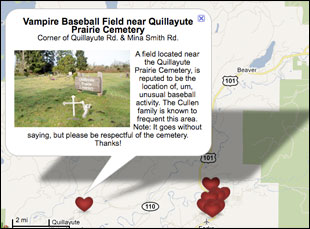 Posted by Vadim Rizov on
Today, innumerable thousands of shrieking tweens (and older counterparts who really should know better) will descend on the nation's multiplexes, baying for "New Moon" blood.
The phenomenon isn't limited to theaters: Forks, Washington — where Stephanie Meyer set her novel without ever visiting — has seen tourism jump way up, from 18,000 visitors in 2008 to more than 64,000 this year alone. Twihards come in hoards, over 100 a day, desperate for a scrap of town memorabilia, stealing dropped library cards and offering cheerleaders cash for their uniforms. It's all very impressive and frightening, and undoubtedly good for a lumber town long suffering from the closure of mills and unemployment.
Meanwhile, consider Pennan, Scotland. In 1983, Pennan achieved cult fame as the setting of Bill Forsyth's "Local Hero," the very definition of a sleeper hit that's retained a loyal following over the year. It's a sweet movie (a little too sweet for me, actually) about an oil-company man coming to Pennan to snap it up, only to discover that the natives would be happy to sell for the right price and figuring out that he's the one becoming most attached to the village. Our hero keeps in touch with the office via a red phone booth; thanks to the movie, that booth gets more calls than any other in Scotland.
So the UK — which guards its regional cultural touchstones jealousy — gave full, multi-paper notice to the news that Pennan's endangered by mudslides and a crack in the cliffs. Pennan's actually remains a minor but solid tourist attraction 27 years after the film's release. Will future tweens make pilgrimage to Forks a generation hence, visiting Dr. Cullen's fake parking spot? Of course not: tween fandom erupts fast and then evaporates. So if you're sick of "Twilight"-mania, deep breath: in ten years, this'll just be a distant memory.
To add random hilarity to your day, click on the first link up top, which will take you to an Evangelical article on with the "Twilight" phenomenon that quotes one Bill Schnoebelen, an Iowa minister and "former Satanist who practiced vampirism for several years." He claims "hundreds of people drink blood as part of vampire cults." I, for one, would really like to meet these people. Were they at the midnight screenings last night?
[Photos: "Twilight" Points of Interest, from ForksWA.com; "Local Hero," Warner Bros., 1983]