Dissecting the Oscar doc shortlist.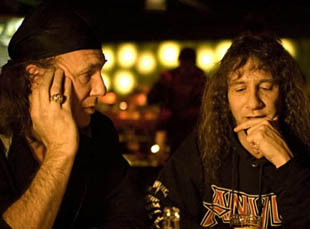 Posted by Vadim Rizov on
Bemoaning the failures of the Oscars in the Best Documentary department has become an annual ritual, like spazzing about filing your income taxes or dusting off stale jokes about March Madness obsessions. So the news that this year's doc shortlist of 15 potential nominees is full of omissions and small obscurities is not a surprise.
Many folks would've liked to have seen "Anvil! The Story Of Anvil," "Collapse," "Crude," "Tyson," "We Live In Public," "The September Issue" or "It Might Get Loud" on the list. So it goes. Some of those omissions are reasonable — there's not much in "Tyson" you can't find on YouTube, and "Collapse" wasn't eligible — others, not so much. But this category has a long history of leaving out prime picks. Not nominated in the past: "Grey Gardens," "Gimme Shelter," "Don't Look Back," "The Thin Blue Line," "Shoah," "Hoop Dreams," "Crumb." You know, the very bricks and mortar of a burgeoning appreciation of documentary film.
What's on the list is the usual hodgepodge. Delightful to see "The Beaches of Agnes" on there: Agnes Varda's essay on her life is twisty and Gondry-esque in all the right ways, even if it's barely a "documentary" in the traditional Academy sense. I'm pleased, too, that "The Cove" — populist activism done right — is there, and will probably win. (Right?)
I'd like to see "Burma VJ" and "Facing Ali," but much of the rest seems middling — based on the Academy's track record, I feel reasonably safe in saying that. I walked out of "Garbage Dreams" after 15 minutes at SXSW: I never need to see another movie with wailing female vocals and sad-eyed children digging through trash. I get it, that's a bad thing. "Under Our Skin" is a reasonably dull documentary about how Lyme's Disease is probably one of the four horsemen of the apocalypse that'll kill us all. Gina Telaroli — who watches more docs than anyone I know — assures me "Which Way Home" is "more exploitative than informative" (and lazily jacks the score from "The Assassination of Jesse James By The Coward Robert Ford" to boot), so there's more token liberal-guilt porn.
The big lesson here seems to be that the so-called documentary renaissance of 2002-06 — when movies like "Bowling for Columbine," "Spellbound," "Super Size Me," "March of the Penguins" and "An Inconvenient Truth" took box-office prisoners and got nominations — is definitely over. Of the 15 short-listees, only three made over $1 million. Two of those, "Valentino: The Last Emperor" (about the fashion designer) and "Every Little Step" (about "A Chorus Line") had built-in constituencies who would've seen them no matter what. (The other was "Food Inc.," which apparently is a cut above your usual activist doc.)
We may never know why the public decided, for five years, that they were actually okay with some (admittedly pretty slick) non-fiction movies, but that's done. So we're back to the status quo in more ways than one now, wondering about what does go on in that selection process? I'm not sure I'll ever be able to figure it out.
[Photo: Dropped — "Anvil! The Story of Anvil," VH1, 2008. In — "Facing Ali," Lionsgate, 2009]