Ninjas, Princesses and Old Dogs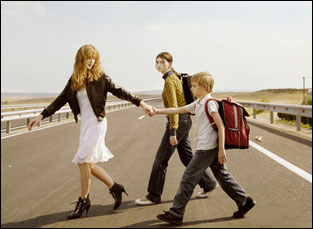 Posted by Neil Pedley on
Families arriving at the multiplex for a little pre/post-turkey entertainment have two choices — separate off into your respective age/gender demographics and indulge yourselves, or stick together in a tragic statement of family unity and purchase seven tickets for "Old Dogs." The choice, it is yours.
Subscribe to the In Theaters podcast: [XML] [iTunes]
"Home"
A selection at Cannes 2008 and this year's Swiss Oscar hopeful, the sophomore feature from Ursula Meier centers on a middle class couple (Isabelle Huppert, Olivier Gourmet) that enjoys bringing up their children away from urban life in the French countryside. However, the construction of a highway near their home leads to a divide between the two on what's best for their family as the pollution from the cars and the incessant noise begins to drive them a little mad.
Opens in New York; opens in Los Angeles on December 18th.
"Me and Orson Welles"
There is no doubt in our minds that if the great and seminal Orson Welles could return from the beyond for one last hurrah, he would take Zac Efron for a muse. But since Welles isn't around, we'll have to make do with Christian McKay, the star of a one-man show called "Rosebud: The Lives of Orson Welles," who was plucked from the off-Broadway production to play mentor to the "High School Musical" star in the latest from Richard Linklater. While there's no singing required, Efron takes to the stage once more to play Richard Samuels, an untested kid who snags a part in Welles' Mercury Theatre Company staging of "Julius Caesar," falls hopelessly for a production assistant (Claire Danes) and receives a tough lesson from the boisterous maverick on the harsh realities of that cruelest of all businesses.
Opens November 25th in New York and Los Angeles.
"Ninja Assassin"
Having honed his skills as second unit director on moody mindbenders such as "Dark City" and "The Matrix" trilogy, New Zealand-born helmer James McTeigue went solo in 2005 with the sorely underrated "V For Vendetta." Reuniting with "V" producers Joel Silver and the Wachowski brothers, he must've seen something he liked on his supporting gig on "Speed Racer," casting Korean pop star Rain in this bloody martial arts story of vengeance and betrayal. Here, the enigmatic singer/actor portrays a deadly assassin raised by a shadowy crime syndicate who flees into hiding after his former clan attempts to execute him, and returns with the aide of an Europol agent (Naomie Harris) to annihilate his would-be killers.
Opens wide on November 25th.
"Old Dogs"
As fine an example of aspirational four-quadrant family filmmaking as you'll ever see is this calculated exercise in mass appeal from "Wild Hogs" director Walt Becker. This life lessons comedy sees the freewheeling pair of John Travolta and Robin Williams as best friends Charlie and Dan, forced to shape up when Dan's ex (Kelly Preston) comes to town and dumps two kids he never knew he had in his lap. Clueless, the duo put themselves through a crash course of kid-centric outdoor activities, presumably to better facilitate scenes where characters get hit in the nuts. Besides serving as the film debut of Travolta and Preston's real-life daughter Ella Bleu, "Old Dogs" also is the final curtain for the late, great Bernie Mac, who plays a kiddie entertainer named Jimmy Lunchbox.
Opens wide on November 25th.
"The Princess and The Frog"
Animated feature #49 didn't come easy for Disney, with the last hand-drawn film from the Mouse House being the 2004 cow-centric clunker "Home on the Range." Since then, Pixar's John Lasseter took over the animation department and recruited "Little Mermaid" and "Aladdin" writing/directing team Ron Clements and John Musker to reclaim some of that old 2D magic with a story featuring Disney's first African-American princess. Set in New Orleans' French Quarter, the film follows young heroine Tiana (voiced by "Dreamgirls"' Anika Noni Rose), who journeys deep into the Louisiana bayou in search of a 200-year-old voodoo priestess (Jenifer Lewis) who can lift the curse that has transformed her and her princely suitor into tiny amphibians (who are really good at dancing). Oprah Winfrey, Keith David, Terrence Howard and John Goodman lend their voices to the musical.
Opens in New York and Los Angeles on November 25th; opens wide on December 11th.
"The Private Lives of Pippa Lee"
Battling fellow scion of literary royalty Rodrigo Garcia for supremacy in the women-in-crisis ensemble genre, Rebecca Miller (daughter of Arthur, wife of Daniel Day-Lewis) adapts her own novel for her fourth feature, a character study of one woman's private nightmare of consumed identity. Pippa (Robin Wright) accompanies her publisher husband (Alan Arkin), 30 years her senior, into a premature stay in a Connecticut retirement community. Bored by having to settle into a daily routine, she reflects back on her life (played as a teen by Blake Lively) filled with memorable characters like her pill-popping mother (Maria Bello), her aunt's dominatrix girlfriend (Julianne Moore) and her husband's lunatic ex-wife (Monica Bellucci). Keanu Reeves co-stars as the bad boy who lures Pippa from her stupor.
Opens in limited release.
"The Road"
Families looking to quietly snooze off those turkey sandwiches in the dark can enjoy the ironic spectacle of hardscrabble, post-apocalypse starvation — not to mention some dodgy product placement — courtesy of "The Proposition" director John Hillcoat's bleak and beautiful adaptation of Cormac McCarthy's end-of-the-world page-turner. In yet another intensely committed physical performance, Viggo Mortensen plays the haunted, nameless father, scouring the scorched Earth for food and shelter, gradually surrendering pieces of his own humanity in a desperate bid to protect his son (Kodi Smit-McPhee) and somehow keep them both alive. Robert Duvall, Guy Pearce and Garret Dillahunt also make appearances.
Opens in limited release on November 25th.