"Monopoly" as bad advertising.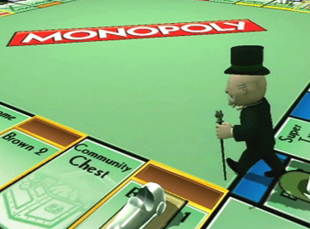 Posted by Vadim Rizov on
There's too many stupid movies these days based on comics, video and board games and theme park rides, but I'll skip the dearth of originality preamble and, well, just pass go and collect $200. That's because there's a new movie based on "Monopoly" in the pipeline and there's not a thing you can do about it. Suck it up. For the edification of the Los Angeles Times' Geoff Boucher, writer Frank Beddor explains how Ridley Scott came to be attached: it was all thanks to the originality and hypnotic qualities of Beddor's scenario. He "created" a "lovable loser" (the first in film history) who isn't a very good real estate broker but is — oh sweet irony — really good at "Monopoly," and awakens one morning to find himself in "Monopoly City." Of course, it's not really about money: "it's more a metaphor for life, the taking of chances and this character through this process learns that he can do a lot of things. He's completely brave and strategic and risk-taking while playing this game but in real life he's a mess. He won't roll the dice. That's the character and journey he has to take."
I won't mock it; it's too easy. If Ridley Scott really thinks it's a good idea to follow up his utterly unnecessary "Robin Hood" redo with a board game adaptation, that's his problem. I do, however, question the marketing logic behind this. While recent toy tie-ins like "Transformers" and "G.I. Joe" have tapped into the nostalgia for the '80s, "Monopoly" stirs up different kind of memories: Beddor claims Scott signed on in part because of how super-wicked-awesome the script was, and in part because he had "these epic 'Monopoly' battles with my family when I was young." Which is adorable. I would, however, point out, that Scott is 71 this year; Beddor has kept his age off the Internet, but if he graduated high school in 1977 (as, to be fair, only an unsourced Wikipedia line claims), he's close to 50, and their fond memories of endless, protracted ("epic") board games with their lovely families may not match the memories of anyone slightly younger, such as anyone forced to spend hours with their family in forced "bonding" time. (In my opinion, it's the family that jams "Rock Band" that stays together rather than the family sulkily huddled over "Monopoly," but what do I know?
Beddor's precedent logic — that "Pirates of the Caribbean" was just a theme-park ride, and it was turned into incredibly successful (and maddeningly boring) movies — doesn't apply here, simply because I doubt that a vast majority of the blockbuster hordes who saw it actually had any knowledge whatsoever of the actual, dated Disneyland ride and although "Monopoly" is still here — in video game form – do people really want to spend much time at Park Place? As I said before, it's inevitable, just as one should expect "Monopoly: The Movie: The Game" any day now.
[Photo: "Monopoly" video game for Wii, Electronic Arts, 2009.]