The intersection of "important" and "good."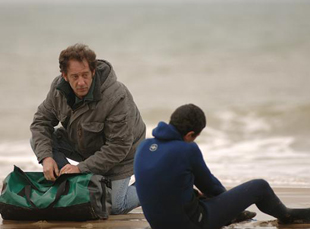 Posted by Vadim Rizov on
This year's Lux Prize has been awarded to Philippe Lioret's "Welcome."
What's the Lux Prize, you ask? Why, it's the awards money the European Parliament gives out to movies that — in the official website's words — show "the process of building Europe in a different light." This is only the third year the prize has been given out.
"Welcome" is about an illegal Kurdish immigrant in France trying to swim the channel to join his girlfriend in England, so it's reasonable to expect that issues of borders and cultural pollination are a big deal. (As the website puts it, "intercultural dialogue and freedom of thought […] are two of [the prize's] most cherished causes.")
In 2007, the prize went to Fatih Akin's "The Edge of Heaven," which is certainly about redefining European boundaries, going back and forth between Turkey and Germany. And in 2008, "Lorna's Silence" won; as a movie about migrant workers being exploited in Belgium, it seems to fit the vague border-crossing theme.
What's concretely notable is that the prize — in cold, hard fiscal terms — provides for subtitling and prints for the winning film in all 23 official languages of the EU, a huge boon in these financially difficult times. And it of course also offers another platform for condescending Europeans to once again repudiate Americans: "Cinema lies at the heart of the European cultural model," the website states. "It is emblematic of the cultural exception dispute between the European Union and the United States."
"Cultural exception" is the system of tariff and quotas France set up to limit American cultural imports and protect French film. There's something nice about the way the policy and prize assist movies that are both socially significant and critically praised. No matter what the champions of inept granola docs on "human rights" issues may claim, you don't have to choke down those stale Wheaties in the name of social conscience — there are films out there you might actually enjoy watching that accomplish the same thing.
[Photo: "Welcome," Nord-Ouest Productions, 2009]