How anonymity can work for you (and Richard Linklater).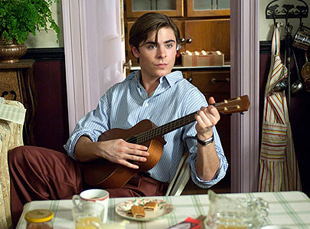 Posted by Vadim Rizov on
Over the weekend, two of '90s indie cinema's now-struggling emeritus directors returned to the cinematic landscape, one to far more noise than the other.
Wes Anderson's "Fantastic Mr. Fox" finally opened nationally and came out soft, its per-screen average of $3,453 hardly much better than the animated flop "Planet 51." Whether things will pick up or whether pure Anderson, uncut or no, is just too idiosyncratic to sell as a family film remains to be seen.
Richard Linklater's long-delayed "Me And Orson Welles" was met with respectful but largely unenthused, hands-off reviews. Despite that, an opening weekend of $16,200 per screen is no joke for a film that took over a year to straggle to theaters. I was part of the crowd; I'm from Austin, so solidarity with Linklater's work is key. As it happened, the theater was being polled by some diligent firm who gave a very cluttered survey breaking us down as demographics — age, race, where you heard about the movie. Before the screening, you were invited to contemplate which factor which drove you to the theater, what made you choose (underlined) "this movie": Zac Efron? "The romance"? "Looks different from other movies out"? Perhaps, more modestly, "Richard Linklater, the director?"
The audience, as it turned out, was mostly middle-aged and more interested in seeing a good, proper piece of Oscar bait than either another laid-back Linklater film or a close encounter Efron's dulcet pipes (though my viewing companion spotted six or seven Efron-tweens in the crowd). Though Efron gets to sing a song in his anachronistic Disney Channel-voice, he's mostly kept in the background while Christian McKay's enjoyable Orson Welles impersonation takes center stage. (With a bigger marketing budget, he'd be a nomination lock.)
Even then, though, this is very much a Richard Linklater movie; his personality is stronger than anything on-screen. Like Ang Lee, he always errs on the side of understatement rather than risk overselling a moment, but sometimes too much underplaying is more conspicuous than a hard sell. Linklater likes to watch his Welles talk, but he's just as much of a digressive, charismatic crackpot as any of the usual curious talky Linklater gang.
Linklater's style — lacking any signature lighting, color schemes or anything, really, besides his basic editorial rhythms — can also be helpfully marketed as anonymously competent. If "Me And Orson Welles" can sustain its momentum past a stronger-than-expected opening weekend, it could be at least in part because of the presumable anonymity of Linklater's technique; you can't cover up Wes Anderson's weirdness without refusing to release any stills or proper trailers. At a time when Linklater's having trouble getting financing, that could be an asset.
[Photos: "Me and Orson Welles," Freestyle Releasing, 2008]