Interview: The Clientele's Alasdair Maclean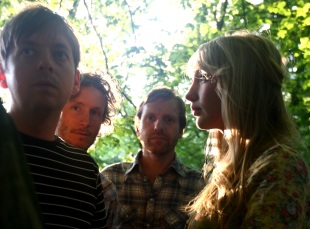 Posted by Brandon Kim on
I discovered the clientele in a record store in Toronto almost a decade ago. It was Fall and I was feeling very I droll, yet nostalgic. I bought the 12″ they were playing, called "Lost Weekend," took it home with me and it didn't leave that record player until Spring. Admittedly, I had three turntables, but I've rarely found a seasonal match so perfect coupled with a sound so immediately pleasing since I picked up the 4 LP tome, The Kink Kronikles. The Clientele's new record, Bonfires on the Heath is out on Merge records and I highly recommend it.
[The Clientele. Photo by Andy Willsher]
I caught up with singer Alasdair Maclean (over the phone) while he was in New York, in the Bronx of all places. He was sitting outside on a bench after a radio station recording session. Kids were "throwing leaves at each other, big piles of dead leaves." It painted an image for me that seemed fitting for him. We got heavy into weepies and Arthurian legends.
I've always associated the Clientele with Fall. Your sound embodies something mysterious, something foreboding, yet calm like the season for me.
Well it sounds like a flattering description and I think that this record is very much a Fall record, you know. The whole idea of bonfires being that they start up in Britain just as the summer's ending and they're a sign that summer's over [See Bonfire night in Britain]. I don't think we consciously try to make a mysterious sound but it's always really flattering when people say that we do.
I read about an early conversation the band had in a pub where you agreed it was good to be influenced by Surrealist poetry but not good to have any shouting which I thought was funny. Tell me about that.
It may sound like just a silly thing to say it's Ok to be influenced by Surrealist poetry, but that's a huge paradigm shift in England you know because any kind of intellectualism or any kind of education is really viewed with mistrust. So for us it was a way of saying, we're gonna be one of those bands, those bands that people hate because they've got ideas about their station or whatever. And it was at the time when bands like Oasis were very big. So it was a conscious thing to be different and bring in things that we loved from literature and art into music which really again, is very mistrusted in Britain apart from a few people who went to art school.
Are you saying there's an uneducated mass that goes for Oasis and an educated few that might like, say, The Clientele and therein lies this kind of conflict you've got over there?
I'd say that was about right. I mean our music is not supposed to be elitist in any way it's suppose to work on different levels and be seductive to people who don't know about surrealist poetry. You don't have to come to it with a prior library. But to be able to explore those kinds of ideas, and just do it very openly, and un-ironically, I think that was the idea for us.
I was baffled to discover you've not met with amazing success in Britain.
Yeah we met with amazing failure in Britain. We never had a label comparable to Merge records, we've always had very, very small labels. Over there it's obviously a much smaller country with a much smaller scene and things are really tied up with a few magazines. They all write about their favorite labels and if you're no on one, then you're kind of out in the cold.
I asked Grant Gee ("Meeting People Is Easy") why he thought there was so much musical genius that sprung from Britain, and he said it was population density, but he also commented similarly about the way music media and magazines work there.
There are quite a few people in quite a small amount of space so I guess that's true…. Yeah that's how it works. I mean, I think for us, we're very happy with the fact that we've been able to continue releasing records despite that happening to us. The bastards haven't ground us down.
What film would you like to live inside of, if you could?
Well that's a very difficult question to answer. I saw a film recently, by French director Robert Bresson, called "Lancelot Du Lac." It's a very strange, kind of wooden film cause all the actors are amateurs and he rehearsed them so many times that they became exhausted. When they were finally totally exhausted and dead eyed, then he ran the film. It's the story of King Arthur and Lancelot and what happens after they fail to find the Holy Grail and it's full of signs and wonders and magic. But in a sense it's like a Bergman film; it's about the silence of God as well. I don't think I would like to live in it because I'd almost certainly come to a gruesome end very quickly, but that film absolutely enchanted me.
I'm surprised I've not heard any Clientele in a film yet, I would have you on any shortlist if I were a music supervisor and I don't even mean to cozy up to you, it's just common sense. Your songs are instant mood makers. Do you have an interest in that?
I would love to do that, I mean we have been in some films. I suppose the biggest one, there's a Keanu Reeves film called "The Lake House," it's like a romantic weepie. It's surprised me too that more directors haven't used our music, but it's all still there, hopefully they can one day.
A weepie! I like that, do you mind if I borrow that from you?
[Laughter] Yeah cheers. Oh yeah, they're designed to make people weep.

Are you big into Halloween where you're from in those backwoods of suburban
Hampshire?
Yeah, but in much less of an ostentatious way. You know, I actually originally come from Scotland and it's a big tradition there. It was really frowned upon when I was younger because it was seen as a kind of pagan thing; it wasn't the commercialized kind of American holiday it's become like since and everyone knows it's a bit of fun. But people of my Grandmother's age in Scotland still believe in Celtic ideas of little people… the faeries you know. So Halloween was actually seen as a dangerous and subversive holiday.
Ah Scotland, land of the ancient Picts and all of that Pagan business, it makes sense that it would thrive there, but further south seem threatening [to Christians]. And you seem to embrace an aura of this in your music too.
Yeah it's very much an Agnostic thing. I think the new record is trying to embrace that sense of eeriness, but at the same time I'm not going to start talking to you about Earth spirits or anything like that. That sense of seeing something just in the corner of your eye, in the woods. That's what this record's about.

Download "Harvest Time," by The Clientele.