Intersection: Charlotte Gainsbourg, Beck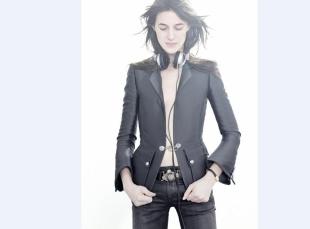 Posted by Brandon Kim on
Man those Scientologists have it all. First Beck got to date Winona Ryder adding his name to a list that has more prestige than a list of Nobel laureates in this country (Johnny Depp, Christian Slater, Daniel Day Lewis, Matt Damon, David Duchovny). Beck then got down for a duet with the illustrious Jane Birkin, cover girl, singer, actress, hot moaner, and one of the most incredible women in the world. Now he's hooked up with her daughter, Charlotte Gainsbourg, who is all of the above and more, to produce her new record "IRM."
I recently had to undergo an MRI (a precaution to rule out tumors for the cause of some dizziness I was suffering) and was mystified by the full blown psychedelic sounds the machine makes while you are jammed inside of it. I went in horrified, and I came out 40 minutes later raving to my waiting friend about how crazy it is. I couldn't believe I'd not heard of a record that was inspired by the experience. Enter Charlotte Gainsbourg, who also went into the chamber of secrets after suffering a hemorrhage from an accident and came out with the concept for "IRM." Great minds and all.
Download title track "IRM" here.
The record is due out January 10th on Because.
Beck and Birkin:

Beck and Charlotte forthcoming "Heaven Can Wait" song:

Charlotte on "IRM"

Charlotte Gainsbourg – IRM from Charlotte Gainsbourg on Vimeo.