Ingmar Bergman's favorite Muppet.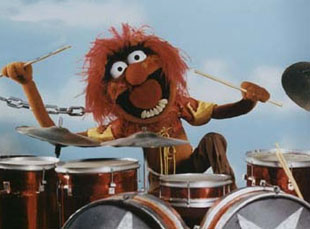 Posted by Vadim Rizov on
W. Magazine's article on the auctioning off of the late Ingmar Bergman's home and belongings confirmed what I'd long suspected: Animal was, in fact, his favorite Muppet.
Bergman was also known to relish the odd blockbuster during his two daily film viewings at a screening room ten minutes' drive from his house. Watching "Jurassic Park," he exclaimed enthusiastically: "Those Americans know how to put on the pants!"
That our masters of rigor often have a taste for the frivolous should no longer be a surprise. Very few haven't admitted, on the record, to some kind of cultural fondness that's, you know, unworthy of their work or whatever.
In the '60s, Robert Bresson expressed great enthusiasm for "Goldfinger"; Stanley Kubrick was obsessed with beer commercials and had James Cameron come over and explain the effects in "True Lies" to him. Just as it's an axiom that musicians listen to way more stuff than makes it into their work (unless you're David Byrne or — god help us — Ry Cooder), directors can and should take in a lot of different material.
It's that adventurous attitude that seems to be missing from the guardians of the highbrow vanguard, who'd like to impose an either/or choice: embrace the underground, avoid the multiplex, pare down your options. The best-known exponent of this view is Cassavetes champion Ray Carney, whose one-man war against everything he doesn't approve of has been going on for years. In a representative '90s speech, Carney provided a typically austere suggested viewing list, "any one of which is more important than Spike Lee's, Oliver Stone's, Steven Spielberg's, Joel and Ethan Coen's, and Quentin Tarantino's complete work." Preach it!
Except no: when your idea of what's worthy is more hermetic than that of the people producing it, you're missing something. For example, Carney deems Tom Noonan "the greatest living American director," part of the continuity of resistance. But Noonan's also a working actor who thinks Michael Mann is "one of the best directors ever."
And that's the problem with lists like the aforementioned TIFF list: they're more restrictive than the filmmakers they're touting. A balanced viewing diet isn't just for the filmmaker sorting through new ideas; these days, sifting through the major releases for traces of life is as adventurous as anything you could be doing.
It takes work to dig up an alternate canon of the rigorous (and yes, frequently awesome), but these days, it seems it's even harder for critics in the mainstream of arthouse viewing to dig up anything else. In memory of Bergman, then, let's try harder. A re-evaluation of "Spider-Man 3," anyone?
[Photo: "The Muppet Show," Walt Disney Home Entertainment, 1976-80; Tom Noonan in Michael Mann's "Manhunter," De Laurentiis Entertainment Group, 1986]