In praise of ZODIAC MOTHERFUCKER.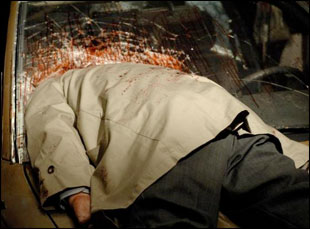 Posted by Vadim Rizov on
This year's top tens are arriving in the double-barrel barrage of both the year and decade. And in these trying times of redundancy and the self-righteous promotion of one's own taste as the ultimate truth, we need a hero. We need someone who says what they mean and is clear on it while also being entertaining. We need, in short, someone like ZODIAC MOTHERFUCKER.
For those of you who don't read the Onion's AV Club on a regular basis, ZMF is a sort of mascot, punching bag and the best. Commenter. Ever.
Essentially, he is (or claims to be, and he's been way too consistent for way too long for me to doubt him) a guy from the Midwest who loves the heaviest of metal (Slayer are his gods) and the most violent of film. He writes in all caps and spends a lot of time telling various haters to get off his dick. A major criteria for what he loves is "ownage," in which violence isn't just extreme but assertive and possessive. And, within these criteria, he's shockingly on point, discriminating not one bit on levels of arty presumption or genre. He's actually pretty open-minded.
For instance, this year ZMF is all about "The Hurt Locker" : "THE LOCKER FUCKING OWNS AND EVERYBODY HERE IS ASSIGNED TO SEE IT I AM MANDATING THAT SHIT SO WHEN THIS SHIT COMES TO DOUCHBAG WISCONSIN OR BITCHASS TEXAS OR WHEREVER THE FUCK YOU ALL LIVE YOU WILL GO SEE THE LOCKER […] TOTAL FUCKING OWNAGE BITCH AND YOU WILL GET OWNED WAR IS AWESOME AND THE LOCKER IS AWESOME."
Beyond that he was most pumped for "Crank 2" — which he loved so much he did a commentary for — and Neveldine/Taylor's underrated follow-up "Gamer," a movie I liked as well. "I AM HERE TO REPORT THAT NEVELDINE AND TAYLOR ARE THE FUCKING FUTURE OF MOVIES," ZMF exulted, which is at least as succinct and pointed as what The Auteurs Notebook had to say about it.
His track record for the last two years is just as solid. In 2008, he top ten'd "The Dark Knight" and "Funny Games" as one and two, without caring one whit about Michael Haneke's pretensions. He even found room for Stuart Gordon's underrated "Stuck" at number four. True, the list also included "Saw V" and "Body of Lies," but the point here is that ZMF recognizes violence and doesn't care about pretension — or, more importantly, what might be perceived as pretension, which is more than can be said for many critics.
In 2007, he was on point about the Oscar nominations: "GONE BABY GONE GETTING ONE JACKOFF NOMINATION AND NO NOMINATIONS FOR ZODIAC. WHAT THE FUCK? YOU WANNA TELL ME THAT SOME WACK AS FUCK MOVIE ABOUT SOME DUMB BITCH GETTING KNOCKED UP IN HIGH SCHOOL IS BETTER, FUCK ALL THAT." And he was right!
He's also exhibited some detailed knowledge of movies going back at least to the '70s, as when he recently chastised an errant AV Club writer by positing a sort of cultural education which would end with her " WRITING WALTER HILL FANMAIL AND SHIT AND WATCHING DEVILS REJECTS ELEVEN TIMES IN A WEEKEND." More people should talk about both Walter Hill and "The Devils Rejects."
ZMF is hilarious, and his taste isn't bad when he leaves the "Saw" playpen. Would I prefer this to Armond White's ideology-before-criticism stance? Yes. Yes, I would. Would I vastly prefer it to the doddering voices propping up movies like "Precious" and "An Education" and so on? Oh, absolutely. Own or be owned: godspeed, ZMF.
[Photos: "The Devil's Rejects," Lions Gate Entertainment, 2005; "Stuck," THINKFilm, 2008]