If you Tweeted #indiefilmcliche, #killurself.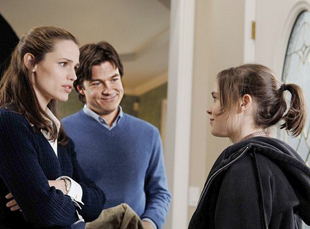 Posted by Vadim Rizov on
I work at home, so I love Twitter: it's a great way to break up the monotony of one room, one laptop and eight hours. If you're a user, you know that on the right-hand side of the page there's a list of "Trending Topics" — frequently used phrases, frequently marked with a hash-tag — that changes depending on how often they're used. Last night, #indiefilmcliche reared its ugly little head, with lots of comments about whiny youth, quirky families and vintage clothing. Twitter-friendly filmmakers got in on the act: Jason Reitman weighed in with "Adorable soundtrack that begins to drive you crazy," which I hope and pray was a self-mocking reference to "Juno"; Richard Kelly blew the whole thing up with "Menacing rabbit figure haunts disturbed teen." Har har.
I'm just going to state the obvious here: to the extent that the vast American public is aware of the "indie film" (many aren't), it's represented by the unholy trilogy of "Garden State," "Little Miss Sunshine" and "Juno." (Sub in "Eternal Sunshine of the Spotless Mind" if you like.) That's it. That's all we have; that's what was reconfirmed on Twitter. This is all kinds of sad and regressive: it's actually a step back from 1996, when four out of the five Oscar Best Picture nominees were "indies" of sorts ("The English Patient," "Fargo," "Secrets & Lies," "Shine") — all accessibly made films and hardly the broadest spectrum of "independent film," but still were produced independently from the studio system. The pundits who regularly whine about how movies aren't made for "adults" anymore (do most of the adults in this country qualify? I kind of doubt it) could make that claim with double justification for the films that are marketed as "indies."
The whole Twitter shoot-out isn't an event, just a symptom of serious public consensus that what's being marketed as the "indie" is as calcified and formulaic as a Michael Bay blow-'em-up or slasher remake. I don't believe that if you actually brought Abbas Kiarostami to the multiplex that it would change anything, but it has to be said that the public — as always — is not quite as dumb as the increasingly cynical mini-majors think. Right now, the year's biggest "indie" is "Paranormal Activity," which you'd think Paramount — if they wanted to start rebranding the genre, thereby opening up a potential new source of revenue — might tell people. There is room for expansion here; in order to combat the really tiresome cliché that indie movies are just Zooey Deschanel trying on different pairs of vintage headphones, the burden of proof rests with the distributors to change it up a bit. We've had this stupid paradigm for almost seven years now (since "Garden State"); try something new. Anything. As long as it's relatively accessible and has performances that are easily identifiable as "good," people will still come.
[Photo: "Juno," Fox Searchlight, 2007.]