Holiday Preview: Anywhere But a Movie Theater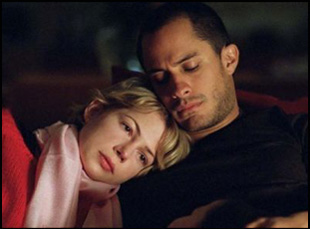 Posted by Stephen Saito on
On Demand
IFC Films (with whom, full disclosure, we obviously share a parent company) will be delivering new films all holiday season to homes across the country through their Festival Direct and Sundance Selects labels. These include the cross-cultural romantic dramedy "I'll Come Running" (Nov. 4), Josiane Balasko's farce "A French Gigolo" (Nov. 6), the Inuit tribal drama "Necessities of Life" (Nov. 11), the Brit crime thriller "Adulthood" (Nov. 18), the Indian love story "Return to Rajapur" (Nov. 25), the Christopher Masterson-Bijou Phillips celibacy satire "Made for Each Other" (Dec. 2), "Harry Potter" helmer David Yates' gritty two-part drama "Sex Traffic" (Dec. 2 and 9), the Korean comedy "Night and Day" (Dec. 23) and "The Ghost" (Dec. 30).
Meanwhile, in the newly launched Sundance Selects series, there's a pair of harrowing documentaries VOD premieres: Kief Davidson's coming-of-age boxing doc "Kassim the Dream" (Nov. 27) and the unvarnished biopic "Nick Nolte: No Exit" (Dec. 30).
IFC Films is also releasing four titles simultaneously with their release in theaters including "Uncertainty" (Nov. 13), the latest thriller from "The Deep End" directors Scott McGehee and David Siegel, starring Joseph Gordon-Levitt and Lynn Collins; Lukas Moodysson's "Mammoth" (Nov. 20), starring Michelle Williams and Gael García Bernal; "Swimming Pool" director François Ozon's "Ricky" (Dec. 16), and Cannes Un Certain Regard-winning "Police, Adjective" (Dec. 23) from "12:08 East of Bucharest" director Corneliu Porumboiu.
Magnolia Pictures is also unwrapping a few presents in anticipation of the holidays. We'd suggest big-screen TVs only for John Woo's Han Dynasty-set action epic "Red Cliff," which is already available on VOD in advance of its November 18th release in theaters. But smaller screens will suffice for "Serious Moonlight," Cheryl Hines' directorial debut from one of "Waitress" writer/director Adrienne Shelly's last screenplays that stars Meg Ryan as a woman who puts her husband (Timothy Hutton) through a different kind of couples therapy when she learns he's cheating on her with another woman (Kristen Bell), premiering on VOD on November 6th before hitting theaters on December 4th; and "Wonderful World", a dramedy starring Matthew Broderick as a former children's singer who regains his groove when he meets the sister of his Senegalese roommate (Sanaa Lathan), premiering on VOD on December 4th before coming out in theaters a month later.
Online
While the online cinematheque The Auteurs makes us wait with anticipation to find out what new films will be presented in their next festival of free films (curated by the Criterion Collection) in November, they have plenty of recent highlights now playing to keep cineastes inside during the cold winter. With the click of a mouse, one can currently access a large part of "Cargo 200" director Aleksey Balabanov's oeuvre, including the dramas "It Doesn't Hurt," "The River," "Of Freaks and Men,", "Brother" and "Happy Days"; the award-winning 2001 Uruguayan festival fave "25 Watts"; "Caché" director Michael Haneke's first pairing with Juliette Binoche, the 2000 drama "Code Unknown"; Takeshi Kitano's 1995 sex comedy "Getting Any?"; and Claude Chabrol's 1959 thriller "À double tour." The Auteurs also have made some hard-to-find gems available with the online debuts of "La Belle Personne" director Philippe Garrel's 1993 family drama "The Birth of Love," "A Christmas Tale" helmer Arnaud Despleschin's directorial debut "The Life of the Dead," and a double bill of Kazakhstani filmmaker Darejan Omirbaev's 2001 comedy "The Road" and the 1998 thriller "Killer."
A nice bookend to one of their other new releases, the music education doc "Chops," B-Side Entertainment is already making their recent acquisition "Still Bill" available to the masses. Fresh from a festival run that spanned SXSW, Silverdocs and London, Alex Vlack and Damani Baker's profile of legendary soul singer Bill Withers will have audiences singing "Lean on Me" anywhere where people enlist in B-Side's "Theatrical-on-Demand" program that allows moviegoers to host their own screenings. The company is also contributing to the national health care debate with the doc "Money-Driven Medicine," Andrew Fredericks' screen adaptation of Maggie Mahar's exposé of American health care practices. "Enron: The Smartest Guys in the Room" helmer Alex Gibney serves as a producer on this doc, which is currently holding "Watch-Ins! For America's Health" across the country through November 10th, but is available to anyone through B-Side's web site.
Just in time for Christmas, Cinetic Rights Management will offer "Clarkworld," a documentary about the life and work of Bob Clark, the cult director behind two of the holiday's most renowned (and replayed) film classics "A Christmas Story" and "Black Christmas," on their cable VOD channel FilmBuff, starting in December. In January, FilmBuff will also premiere "Let Them Chirp Awhile," a romantic comedy featuring "Mutual Appreciation" star and Bishop Allen frontman Justin Rice as a screenwriter who hopes to win over his neighbor (Laura Breckinridge) by taking care of her dog as he attempts to free himself from a crippling case of writer's block.
And since 'tis the season of sharing, it's only fitting that in November, Cinetic will team with iTunes to present the online debuts of the 1988 Sherlock Holmes mystery "The Hound of the Baskervilles" in time to compare notes with the new Guy Ritchie interpretation, and the 1997 Ian McKellen Holocaust drama "Bent," which not only features the young Clive Owen and Jude Law, but also Mick Jagger as a Berlin-based transvestite. Cinetic will also celebrate Veterans Day on November 11th with the release of two documentaries honoring soldiers: "When I Came Home," the award-winning 2006 look at homeless vets, and "Jerabek," the story of a Wisconsin family coping with the death of their son in Iraq. Both films will be available on SnagFilms and Hulu. The company is also doing something special for December 6th, releasing Robert Greene's geoengineering doc "Owning the Weather," which will be released online and on cable VOD day-and-date with its screening at the UN Climate Change Conference in Copenhagen.
The independent film store and distributor IndieFlix.com has recently revamped their Web site with a new look and a more user-friendly experience that continues to offer films from truly independent filmmakers that you can find nowhere else. To celebrate, they're kicking things off with the release of writer/director/star Paul Fitzgerald's drama "Forgiven," a political potboiler about a small-town district attorney (Fitzgerald) whose bid for a U.S. Senate seat is complicated by questions surrounding his prosecution of a death row inmate who is later exonerated. Nominated for the Grand Jury Prize at Sundance in 2006, the film will be available for VOD rental and DVD purchase through IndieFlix starting on November 10th and DVD rental through NetFlix beginning December 8th.
Computer savvy documentary fans can indulge in some self-reflection with SnagFilms upcoming slate of free films, which include Jim Killeen's 2007 doc "Google Me" about one man's search on his computer and beyond to find those who share his name, and "MacHeads," Kobi and Ron Shely's 2009 look at the fanatical users of Apple Computers who worship at the alter of Steve Jobs. Tricia Todd and Eric Matthies' "Agile, Mobile, Hostile: A Year With Andre Williams" also arrives straight from the festival circuit, chronicling a year in the life of the 70-year-old R & B musician behind such hits as "Shake A Tail Feather" before a cocaine addiction left him homeless and without a career. For something you can watch immediately, SnagFilms also just released the doc "From Mara to the Marathon," which follows former "ER" doc Anthony Edwards as he travels to Nairobi to reunite with Ole Kane Lettura, a native Kenyan who met Edwards as a scout for a safari company and discovered that the two shared a passion for running. In return, Edwards tries to convince Lettura to fly overseas to run in the New York City Marathon.