"Gentlemen Broncos" gets corralled.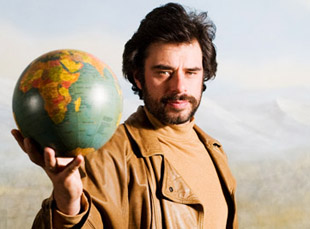 Posted by Vadim Rizov on
Fox Searchlight has become to the '00s what Miramax was to the '90s: a company that gets known for putting out "niche" movies that aren't honestly the toughest of sells. With the trifecta of "Napoleon Dynamite," "Little Miss Sunshine" and "Juno," they basically cracked open the window for the mainstreaming of Sundance quirk. But they've hit a wall this year, with the exception of "(500) Days of Summer": "Amelia" is tanking, "Whip It!" collapsed down some hole and hardly anyone noticed that "Adam" came out. And now they're canceling "Gentlemen Broncos"' national roll-out. The words "From the director of 'Napoleon Dynamite'" apparently no longer carry the same weight they did — which, unless you're the film's main champion Richard Brody, probably won't make much of a dent in your day.
CinemaBlend's Katey Rich suggests that, while "Broncos" was an unsalvageable stinker that should have opened wide to make as much cash as possible before the bad word-of-mouth caught up, "Whip It!" and "Adam" "deserved at least moderate-sized audiences." Either way, she writes, this "is still the studio with the guts to make movies like 500 Days, and has any number of exciting projects coming up."
C'mon now, "guts"? Next for the studio are "Just Wright," a Queen Latifah romcom about a physical therapist falling in love with a pro basketball player; "Crazy Heart," basically "A Star Is Born" done country music style with Colin Farrell; and "Rabbit Hole," a play adaptation directed by John Cameron Mitchell and starring Nicole Kidman. These aren't exactly "In the Realm of the Senses" — they're mid-budget dramas with recognizable stars and subject matter that doesn't push too hard. When Fox Searchlight starts throwing money at expensive follies like "Gangs of New York," then we'll talk guts.
[Photo: "Gentlemen Broncos," Fox Searchlight, 2009]