Five reasons "Pirate Radio" flopped.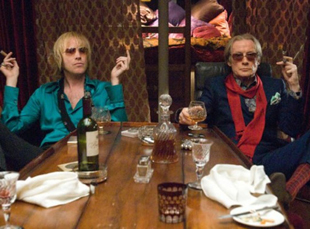 Posted by Vadim Rizov on
As you're doubtless aware, the weekend saw "Precious" making $6.1 million from a measly 174 screens, doing well on its probable journey towards Best Picture; "Fantastic Mr. Fox" did well too, pulling roughly the same per-theater average as "The Darjeeling Limited" in its first weekend, which means Wes Anderson may or may not still be too cool for the mainstream. Less remarked upon was the crash-and-burn failure of "Pirate Radio," Richard Curtis' tepidly-awaited follow-up to "Love Actually."
Considering the latter is a dorm-room staple of deluded pseudo-romantic girls everywhere, why might this be? And no, "bad reviews" is not an acceptable answer — the Metacritic score for "Pirate Radio" is actually slightly higher than that for "Love Actually". Here are five reasons for the film's failure, both conceptual and lifted from the terrible trailer:
1. No one cares about Richard Curtis in the US.
Richard Curtis did time on "BlackAdder" and "Mr. Bean." That means nothing in the US (sadly). He did, however, write the following romcom staples: "Four Weddings and a Funeral," "Notting Hill," both Bridget Jones films, the aforementioned "Love Actually." HOW HARD IS THAT TO MENTION IN THE TRAILER? Pretty freakin' hard, apparently: we get a voice-over informing us that this is from "the creator of 'Four Weddings and a Funeral' and 'Love Actually.'" Two mistakes there: assuming your target audience is old enough to remember "Four Weddings" (doubtful) and using the ever-nebulous "from the creator of" formula, which wary audiences are smart enough to distrust. Just say "From the writer of every romantic comedy you love" early on with a full resume count — not in a perfunctory voice-over over a minute-and-a-half into the trailer, by which points the young romantic girls are all like "Old dudes! Ew!" and have tuned out. Speaking of which:
2. Philip Seymour Hoffman and Bill Nighy are not stars.
We love them and all, but: clear enough. So don't foreground them in your marketing! It's all about that romcom hook — and no, it doesn't matter that the movie isn't actually a romcom. Cut it so it looks upbeat and heartwarming — there's a whole father-son thing going on — and foreground Curtis' bio. It's not hard to sell mush. These are just two of many things wrong with the trailer. Conceptually, though:
3. People are tired of self-congratulatory baby boomers.
Remember when "Taking Woodstock" tanked earlier this year and Ang Lee was all like "I am very confused by the failure of my movie"? Let us note, now and forever, that audiences under fifty — i.e., much of the prime moviegoing public — are sick and tired of hearing about how the baby boomers changed the world, saved rock 'n roll et al. I know this is a cliché, but that's because it's true. So stop making movies about it.
4. The soundtrack.
At the end of the trailer come these exciting words: "Soundtrack featuring music by The Who/The Kinks/Cream/The Rolling Stones." OMG NEW RARITIES? Oh wait, no, you're inviting me to see the aural equivalent of a classic rock station? Why would anyone want to see that? Are you actually using "Won't Get Fooled Again" in the trailer?
5. Bonus reason: it already showed on Air Canada.
No, really, it was screened in its original, longer British cut — called "The Boat That Rocked" — in the "avant garde" section. (Lulz, etc.) There goes the precious Canadian business traveler market!
[Photos: "Pirate Radio," Focus Features, 2009]