Five camp moments from the Cold War.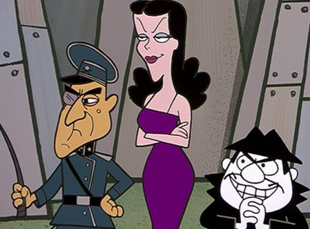 Posted by Vadim Rizov on
Yesterday was the 20th anniversary of the collapse of the Berlin Wall, which passed with less fanfare than you'd expect. The Los Angeles Times' Betsy Sharkey had a decent list of Cold War movies she digs, along with a lament for a past of clearly defined villainous foreigners and heroic Americans. But while you've probably heard of most of her picks or should've, where, then, are the truly bad examples of the Cold War on film, the hoariest detritus caught in a political culture trap? Here are five oddities:
"The Red Menace" (1949)
The '40s and '50s didn't lack for hysterically titled referendums on the menace within our borders. ("I Married A Communist" is as memorable a title as there is.) "The Red Menace" is the story of embittered ex-GI Bill Jones (Robert Rockwell), who falls for Party operative Nina Petrovka (Hanne Axman) until both of them figure out the Communist Party does not have the best interests of the American people at heart, at which point they flee and — as Dennis Schwartz explains — "give themselves up to a small-town Texas sheriff, who sympathetically listens to their story all night and it's decided that they acted stupidly by joining the Party and now will get married and raise their children to be good citizens." They probably should've figured this out before attending a meeting where a dissenter is labeled "a Mussolini-spawned Dago who wants to grovel at the feet of the exploiters of his own people" by the woman in charge. Said Italian-American is beat up in short order, leading the dear leader to ask "What's the matter with you, Nina? Weak stomach — or is it your loyalty?" That clip's below.
"The Iron Petticoat" (1956)
Katherine Hepburn and foreign parts never really got along: her turn in 1944's "Dragon Seed" as Chinese villager Jade Tan was poorly received. Even odder is this Hepburn-Bob Hope vehicle, where she plays Captain Vinka Kovelenko, who flies to London, after being passed over for promotion, where an Air Force captain (Hope) attempts to convince her to defect and become an American propaganda prize. Romance, comedy, etc. But nothing can cope with the disorienting qualities of Hepburn's accent as she growls "Your face reminds me how vile even a Rrrrrrrrussian can be."
"World War III" (1982)
The Cold War film as a genre really flourished in the '80s, launching a final golden age of hyperbolic America-vs.-Russia conflicts (think "Rocky IV"). "World War III" was an NBC miniseries with a Soviets-invade-Alaska premise that looked back to the likes of 1952's "Invasion USA" and anticipated 1985's twin double-feature of "Red Dawn" (Patrick Swayze and gang versus Soviets) and "Invasion U.S.A." (Chuck Norris solo versus vaguely Soviet-ish foreigners). Here, American soldiers duke it out with soldiers on a very fake-looking Alaskan set (lots of fake snow flying around) while President Rock Hudson leads negotiations. This already inadvertently surreal scenario (with grizzled second bananas like Brian Keith in the cast, it starts looking a lot like "Airport '82: Nuclear War") is only heightened by the fact that the below trailer is riddled by Japanese super-titles, which somehow makes sense.
"The Ninja Mission" (1984)
This is the kind of movie that was New Line Cinema's bread and butter during their early exploitation years. It concerns Soviet scientist Dr. Markov (Curt Broberg) who wants to defect to Sweden and is instead kidnapped by the KGB, who convince him he's now in Sweden and encourage him to keep doing his nuclear research. This is the point when the CIA sends in their crack ninja team to rescue Markov — though, judging by the clip below, this ninjas have an unusual fondness for automatic fire-power. This clip is heavy on implausible gore and really bad stunt falls; it's also probably NSFW. Fun fact: this is one of the highest-grossing Swedish movies of all time. Take that, "Let The Right One In"!
"Russkies" (1987)
Applying "E.T." logic to a Cold War treat for the whole family, "Russkies" has young Joaquin Phoenix (then credited as "Leaf") and pals finding a simply adorable Russian sailor (Whip "former brother-in-law of Kurt Russell" Hubley) on the shores of Florida and taking him in — buying him clothes, taking him to the mini-golf course, teaching him how to play arcade games. Nevermind that the sailor was part of a Russian trio assigned to steal computer parts from the local U.S. military base — your eyes may well melt at this warm and fuzzy clip. Song montage!
[Photo: No-goodniks Boris and Natasha of "The Rocky And Bullwinkle Show," 1959-1964, Sony Wonder.]