The Fantastic and the Apocalyptic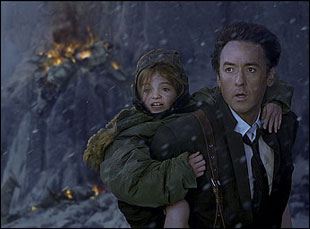 Posted by Neil Pedley on
Richard Curtis sets out to the high seas to rock our world, Roland Emmerich just obliterates it and Wes Anderson reenvisions it in stop-motion animation, while as a group of documentaries ponder real world issues of war, God, poverty and Glenn Gould.
Subscribe to the In Theaters podcast: [XML] [iTunes]
"2012"
On behalf of moviegoers everywhere, we here at IFC would like to thank that schoolyard bully who must have so traumatized a young Roland Emmerich that he has spent his recent career ritualistically laying waste to our world one famous landmark at a time. Having previous employed such excuses for mass destruction as alien invasions and global warming, this time cinema's most destructive director turns to an ancient Mayan prophecy that foretells the end of all mankind, and once again batters humanity — specifically John Cusack and assorted stragglers — like the fist of an angry god through a barrage of CGI natural disasters that rapidly consume our planet.
Opens wide.
"Dare"
Stretching their 2005 short of the same name into a feature, writer David Brind and director Adam Salky offer up a multi-strand narrative about a trio of romantically confused teenagers in their last semester of high school that impressed at its Sundance unveiling earlier this year. Emmy Rossum stars as Alexa, an overachiever and aspiring actress chasing validation, alongside Ashley Springer, who plays Ben, a closeted homosexual struggling for self-acceptance. "Friday Night Lights"' Zach Gilford rounds out the trio as Johnny, a privileged bad boy whose anti-social antics mask deep personal insecurities.
Opens in limited release.
"The End of Poverty?"
Employing the anti-capitalist theories and writings of historian Clifford Cobb (on board as an exec producer) for a foundation, activist filmmaker Philippe Diaz delivers a broad view of recent economic history as it relates to the developing world, positing that capitalism is merely the extension of colonialism by other means. With interviews with experts like Joseph Stiglitz and Chalmers Johnson, the left-leaning director points his finger firmly at the West, arguing that the wealth gap has become so severe that the only viable solution is nothing less than the total abolition of privatization.
Opens in New York.
"Fantastic Mr. Fox"
Having got his animation feet wet orchestrating those whimsical underwater sequences that decorated "The Life Aquatic," Wes Anderson dives right in for this stop-motion adaptation of the classic Roald Dahl kiddie fable. But do not be fooled, we've been here before. From the familiar voices of Jason Schwartzman, Bill Murray and Owen Wilson to the preoccupation with wardrobe choices, Anderson's latest is another tale of a pompous parental figure reconnecting with bruised, neglected offspring, full of deadpan moments of introspection. George Clooney voices the eponymous forest dweller whose ego-stroking, chicken-stealing ways put his wife (Meryl Streep) and children in the crosshairs of a trio of furious farmers.
Opens wide.
"Four Seasons Lodge"
Directed by New York Times journalist Andrew Jacobs, this documentary follows a group of Auschwitz survivors who've gathered at the same Catskills resort for the past 26 years to mourn the dead and celebrate the fortune of their lives through shared memories, fellowship and dancing. (No one puts these gals in a corner.) But with their numbers gradually dwindling year after year, group president Hymie Abramowitz, a man who left his own faith back behind the barbed-wire fences, proposes the dissolution of the colony and marks it with one more coming together for a final hurrah.
Opens in New York.
"Genius Within: The Inner Life of Glenn Gould"
A study of the most celebrated and documented classical musicians of our time, this intimate character piece from French-Canadian filmmakers Michèle Hozer and Peter Raymont attempts to unravel the myriad of contradictions between Gould's buttoned-down public persona and his hedonistic private life. Laced with telling interviews from key people in his life, the film touches on the pianist's drug use and his long-standing affair with artist Cornelia Foss in an attempt to form a full portrait of a man many saw, but that few really knew.
Opens in Los Angeles.
"The Good Soldier"
Taking firsthand accounts from five combat veterans from different conflicts, the husband and wife filmmaking team of Michael Uys and Lexy Lovell deliver a pointed anti-war message from men profoundly affected by their experience that pierces the veil of political rhetoric that so enshrouds our military. Uys and Lovell chart the way in which war alters the perception of ideology through a mix of frank interviews with current and future veterans and archival war footage from the wars they fought.
Opens in New York.
"The Hand of Fatima"
More than three decades after the celebrated music journalist and author Robert Palmer traveled the deserts of Morocco on a Rolling Stone assignment to interview the Master Musicians of Jajouka, a band of performers whose music predates recorded history, his daughter Augusta Palmer sets out to retrace his steps. Timed to coincide with the publication of a new anthology of Robert Palmer's writing, Augusta's odyssey of self-discovery blends vérité footage captured during her father's original journey, her visits to the Ahl-Srif mountains and animated interludes together to form a travelogue for musical transcendence.
Opens in New York.
"Love Hurts"
Richard E. Grant, one of the great unsung comedy actors of our age, injects this sophomore effort from TV writer-turned-director Barra Grant with his singular brand of intellectualized mania as Ben Bingham, a newly separated father who throws himself back into the dating game at the behest of his son Justin (Johnny Pacar). But when the younger Bingham zeroes in on becoming a one-woman man himself, Ben realizes that his series of dates with the likes of his personal trainer (Janeane Garafalo) and a local nurse (Jenna Elfman) are just a way of treading water until he can figure out a way to recapture the love of his former wife (Carrie-Anne Moss).
Opens in Los Angeles.