Seven great moments in film family fighting.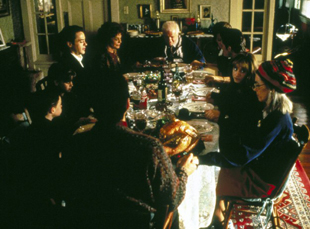 Posted by Vadim Rizov on
You know why there really aren't that many movies about Thanksgiving? Because there's nothing nice to say about it, that's why. Thanksgiving is the day a bunch of people go to airports to have their flights delayed or snowed out, and when they do get home there are all kinds of relatives there you don't really want to see and your mom wants to know when you're going to get married and pop out those grandkids and then everyone gets drunk and yells at each other. Or so I hear. My family isn't that extended.
Anyway. In honor of those of you who are home with your families today, here are seven clips from films celebrating the true meaning of familial togetherness. Which is to say, total abrasion:
The Darkos, "Donnie Darko" (2001)
Let's start nice. The Darkos have their problems — daughter Elizabeth is planning on voting for Dukakis, dad Eddie thinks that's a lousy idea, Donnie hasn't been taking the meds that are supposed to keep him from burning down any more houses — but at least they can laugh at them when Elizabeth tells Donnie to "suck a fuck." The family that eats delivery pizza together stays together.
The Larsons, "Home for the Holidays" (1995)
One of the few movies to tackle the whole ritual head-on, Jodie Foster's second turn as director boasted the tagline "On the fourth Thursday in November, 84 million American families will gather together… And wonder why." Daughter Claudia (Holly Hunter) just lost her job, son Tommy (Robert Downey Jr., doing straight-up RDJ) is hellbent on antagonizing sister Joanne (Cynthia Stevenson) and dad Henry (Charles Durning) is videotaping the whole mess for posterity. Before carving the turkey, Henry gives an inappropriate prayer in praise of "Thanksgiving, which really means something to us, even though — goddammit — we couldn't tell you what." I don't know either.
The Vuillards, "A Christmas Tale" (2008)
Arnaud Desplechin does for French families what Wes Anderson does for American ones, just with greater savagery: in his very first movie, 1991's "La Vie des Morts," a daughter announces at the breakfast table that everyone hates their mother, and she's not talking hypothetically. In 2004's "Kings and Queen," a seemingly loving father leaves his daughter a note from beyond the grave, telling her exactly what he thinks of her. But that's nothing compared to "A Christmas Tale," a full-on barrage of unconcealed animosity and spite. The clip below's just a sample of what happens when the nicest thing a proudly anti-Semitic mom can call her son is "my little Jew":
The Joyces, "Pretty Persuasion" (2005)
You don't really need a whole family to make it awkward, of course: for true cattiness, all you really need is a teenage girl hostile to her new stepmother, especially if said stepmother is barely older than her and obviously a giant vapid target. In the strictest sense, this isn't true dysfunction: paterfamilias James Woods is too busy delivering his anti-Semitic diatribe to notice his daughter is accusing her new "mom" of bestiality. Close enough though.
The Plantagenets, "The Lion in Winter" (1968)
To be honest, if I want to watch Katharine Hepburn being bitchy in a play adaptation, I'd rather go with 1973's "A Delicate Balance," where she goes all Edward Albee. But I couldn't find a representative clip from that, so let's stick with the mostly lousy "The Lion in Winter," a movie which nonetheless has its vituperative highlights. It's Christmas 1183 — apparently no easier on grown-up families then than now — and Henry II (Peter O'Toole) has just figured out that none of his sons really love him and all just want to inherit the kingdom. "You're not mine! We're not connected! I deny you!" he screams. It's good as he delivers it, and even better if you imagine it in a Daniel Plainview voice.
The Slocumbs, "Igby Goes Down" (2002)
As close as we're ever going to get to "Catcher on the Rye" on-screen (which is, you know, probably a good thing), "Igby Goes Down" is the story of an insufferably bratty, conceited great white hope (Kieran Culkin) who happens to also be pretty funny and correct in his brattiness. When Igby and family get together, bad things happen, whether it's his godfather (Jeff Goldblum) punching him for sleeping with his mistress, describing his brother (Ryan Philippe) as a fascist, or his mom…well, better not to say, even though matricide is the first thing to happen in the movie. Oh, but it's a comedy. And, as the clip below reminds us, it's hardly the first time a Culkin brother has made a movie about families on edge:
The Tyrones, "Long Day's Journey Into Night" (1962)
Of course, some families have problems beyond getting on each other's nerves. Eugene O'Neill's nerve-wracking play — so devastating he stipulated in his will that it wasn't to be performed til 25 years after his death — is the cheery story of two sons (both alcoholics), a father (ditto) and mother (morphine) gathering for an average 1912 day to repeatedly rip each others' failings apart. I suppose, all grumpiness aside, most families are a good thing; if you want to feel better about your family for real, this is the way to go.
[Photo: "Home for the Holidays," MGM Home Entertainment, 1995]