Eva Green, Ryan Phillippe, Malakai… Franklyn?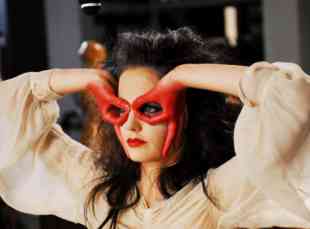 Posted by Brandon Kim on
I remember seeing this trailer for a film called "Franklyn," and although it looked a bit like Liam Neeson's masked "Dark Man" tripping balls in a remake of 1998's "Dark City" it also reminded me a bit of the kind of fantasy Terry Gilliam would entertain. Add Eva Green and I'm sold. The UK production also featured Ryan Phillippe, Sam Riley (who played Ian Curtis in "Control") and LOTR's Bernard Hill (King Theoden of course).
I just forgot all about it, thinking the requisite marketing barrage would remind me to brave the usual weekend troglodytes for some big screen fun, maybe I'd even get a screener. You can imagine how mystified I was to discover that this had gone straight to DVD in the US. What? Well I got my hands on a copy and while director Gerald McMorrow seems like he juggled one too many balls, I still can't figure how this did not get a release. Look at the dog turds that get released every weekend in this country.
The story weaves around four characters (eventually all tied together), none of whom are given enough room to shine, especially given the aforementioned cast. One of them, Phillippe, does not seem to be in the same world as the others and intriguing as it is, it doesn't quite work until it's too late. The editing left me baffled, and not in a good way. It's great to look at though, considering the budget – reportedly a mere $10.4 million, I might have to call it brilliant. McMorrow is listed as a runner on "Hardware," an incredibly tough 1990 Sci-Fi picture that it seems he learned a few tricks from.
The best thing about "Franklyn" might be this band, Malakai, that I discovered while watching it. Joby Talbot ("Son of Rambow") scores, but Malakai gets most of the glory. The Bristol, UK duo is a sample-heavy, 60's deep trip outfit of the highest order. I'll be investigating them further for sure.
Check out this Electric Prunes come Tricky ditty, "Fading World" that rolls at the end of the film.
Malachai – Fading World by DominoRecordCo