Doom, gloom and Michael Haneke.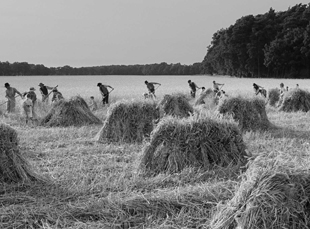 Posted by Vadim Rizov on
As Michael Haneke's Palme d'Or-winning laugh riot "The White Ribbon" opens in the UK and Sony Classics ramps up for the December 30th US release of the film, Hari Kunzru comes forth to praise the director and Stuart Klawans to (covertly) bury him.
What's funny is they both end up pointing out the same thing.
Kunzru — the awesome British novelist whose "Transmission" is one of my favorite novels of the decade — offers up his thoughts on the political context of Haneke's films, and on the groundswell of disgust at the way Austria tried to disassociate itself from its Nazi past. But he gets into shaky territory when he gets to Haneke's more recent work, generalizing about "the link between the personal and the political, the influence of the media, video surveillance, social control and the possibility of authentic human community." His inadvertent conclusion is that Haneke's indictments aren't nearly as universal as he'd like — outside Austria, he's just another media-decrying doomsday pessimist.
Klawans goes about his work in an entirely different way. Haneke's refused to point-blank say that "The White Ribbon" — which is set in Germany just before WWI — is about how Nazism came about, though the narrator does say the tale might "clarify some things that happened later in our country." So Klawans talks to a number of historians who, unsurprisingly, are unimpressed with the film's suggestion that sexual repression laid the stage for mass genocide.
"There are people all over the globe who are sexually repressed," Jeffrey Herf snipes. "Why is it that this particular repression took the form of National Socialism?" And when Haneke protests his film isn't specifically about Nazism but about anything awful you want it to be about — Islamic terrorism, etc — the professors are equally unimpressed by his lack of specificity.
The further Haneke gets drawn into the "big picture" (i.e., people are awful) and further away from his specifically Austrian-critiquing roots, what he sees as "ambiguity" and being thoughtful starts to seem kind of silly. Or as Klawans puts it, "The White Ribbon" just doesn't justify its cavalcade of over-the-top misery.
[Photo: "The White Ribbon," Sony Pictures Classics, 2009]