"The Little Mermaid" ain't so great.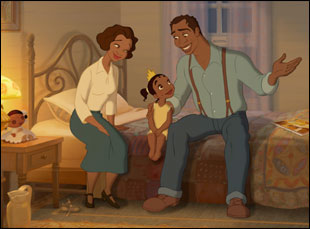 Posted by Vadim Rizov on
"The Princess and the Frog" opens nationwide December 11, but hits New York's Ziegfeld Theatre on Wednesday. It's a slow, buzz-building rollout for Disney's much-publicized attempt to resurrect the traditional animation that transformed the company from mere corporation to cultural touchstone.
But is it really a return to tradition? Sure, if by "tradition" you mean Disney movies from "Beauty and the Beast" onwards. The truth is, Walt Disney might not recognize the house he built if he were still alive.
The classic animated features that are mandatory viewing for children (and valuable home-video cash cows), like "Snow White and the Seven Dwarves," "Dumbo," and "Cinderella," had little-to-nothing to do with the standard "be yourself" platitudes that have made so many '90s Disney flicks turgid and annoying. In the 30-odd-year gap between Walt's death and "The Little Mermaid"'s kick-starting of the so-called Disney Renaissance, the studio tried out a lot of things, most of which didn't work.
There were the legendarily slapdash cheapie kiddie matinee live-action movies of the '70s (like "The Cat from Outer Space") and the unsettled '80s, when the brand was up for grabs and there were expensive animated bombs like "The Black Cauldron" and increasingly adult-themed live-action movies like "Never Cry Wolf." It was the founding of Touchstone Pictures — an alternate outlet for grown up Disney fare — that really saved the company with hits like "Good Morning Vietnam" and "Down and Out in Beverly Hills." That was the true Disney renaissance.
What the new wave of animation did was turn cel-based movies — the kind that once made Salvador Dali call Disney one of the "great American surrealists" — into a babysitting tool for the overparented kids of the '90s. (I'm speaking from experience here.) "The Little Mermaid" is nowhere as good as its rep — it's alternately cutesy and tedious — but it set the template for a bunch of movies where, no matter the plot, we'd learn valuable lessons about being ourselves, valuing family, etc.
Only "Aladdin" and "Hercules" really made it out of that box (well, that and the oddity that was "The Hunchback of Notre Dame," and even that film turned into a lesson about accepting your friendly neighborhood hunchback at the end). "Tarzan" had a song called "Two Worlds, One Family." And so on.
These days, everyone likes to complain about the latest CGI family movie larded with stupid pop culture references and fart jokes, but there's a reason "Shrek" was a huge hit when it came out — people were sick and tired of visually stunning touchy-feely lectures. How "The Princess and the Frog" turns out remains to be seen, but it's got nothing to do with the idea of the "original Disney."
And don't even get me started on "High School Musical."
]Photo: "The Princess and the Frog," Disney, 2009; "The Little Mermaid," Disney, 1989]