The death of the original screenplay…?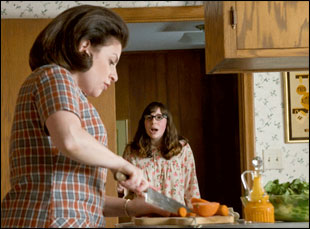 Posted by Vadim Rizov on
This week's favorite Oscar topic, besides last night's announcement that Alec Baldwin and Steve Martin will be co-hosting the awards, is where all the original screenplays have gone.
The Hollywood Reporter's Steven Zeitchik points out the a dearth of obvious candidates for the "Best Original Screenplay" category. If "Up," "Inglourious Basterds" and "A Serious Man" are virtual locks, what else does that leave us with? Zeitchik proposes "(500) Days Of Summer," and maybe "The Hangover" or "Star Trek." (Yes, under the Academy's ever-dizzying, perpetually nonsensical rules, it's a possibility.) THE ORIGINAL SCREENPLAY MUST BE DEAD. Because "ever since the studios became obsessed with remakes and sequels, there's been a depletion of the kind of new ideas that once populated the category."
Well, except that, unlike many of the other categories, Best Original Screenplay nominees don't have to have made a lot of money — recent ones have included "Frozen River" (domestic gross: $2.5 million) and "Lars and the Real Girl" ($5.9 million). And being foreign isn't really a disqualifier: in the past decade, "Y tu mamá también," "Amélie," and "Pan's Labyrinth have all been nominated (and Mike Leigh's gotten the nod twice).
So there's no reason "Adventureland," "The Hurt Locker" and "Moon" couldn't take up slots without having to cede ground to "The Hangover" (since the Academy does, after all, hate comedies). God help us, they could nominate "Away We Go," since the Academy always lusts after literary semi-prestige. if the committee decides "District 9" is original despite its short film origins, that could go in as well. And there's no problem with biopics being nominated (Dustin Lance Black won most recently for "Milk"), so why not "Bright Star"?
Anyway, even in the supposed golden age of studio originality of, say, the '40s, the year a stodgy biopic wasn't nominated was rare. A now-forgotten one about Woodrow Wilson (imaginatively titled "Wilson") won in 1944. Even in the edgier '70s, the Academy still found the time to nominate a Churchill biopic ("Young Winston").
There are at least two screenplays this year which, while technically "adaptations," are imaginative expansions way beyond their source material: "Fantastic Mr. Fox" and "Where The Wild Things Are," both of which basically use the children's books on which they're based as jumping-off points for true originality. So no more "there are no original ideas," please.
[Photo: "A Serious Man," Focus Features, 2009]