Richard Linklater's "Dazed and Confused" sequel bites the dust.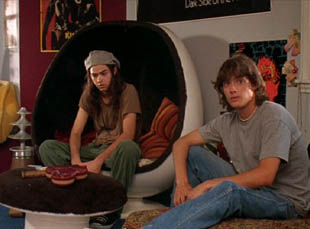 Posted by Vadim Rizov on
"Dazed and Confused" is effectively beloved by everyone who's seen it — including me — so I got uber-excited about the prospect of Richard Linklater making a "spiritual sequel." And now it's dead on the ground.
It was apparently called "That's What I'm Talking About," in honor — we presume — of the kind of stoned logic of the original, where that phrase was the highest form of praise you could offer. But Linklater couldn't raise the $14 million necessary to get the project off the ground, at least not without casting already completed. Now it goes on the backburner, to be filed away for possible future re-excavation.
In terms of how a "Dazed" sequel might work, it doesn't make that much of a difference if it'll be resurrected now or later: 1980 is 1980 no matter when you film it, and no one from the original cast would be reappearing (aside from Matthew McConaughey, who can never truly age, apparently).
"Dazed" is a dorm-room staple — one of the few that's also widely beloved on the critical side — but it was pretty much a theatrical flop that only gained traction when people had it at home to sneak up on them. With the exception of "School of Rock," that's been true of all of Linklater's movies: they underperform theatrically, then — at least in some cases — take on new life later.
I suppose Linklater's work is too unassuming to really take viewers by storm in the theater, yet genial enough to stick later. In that respect, he's kind of like Wes Anderson, whose movies up til now have never done that well in theaters but find a healthy, less profitable afterlife. That probably wasn't Linklater's career plan, but that's kind of how his movies ended up — and, for the moment, it appears he can no longer keep working that way. It's kind of moronic: surely there's a big enough audience for this kind of thing, even if "spiritual sequel" isn't the easiest marketing tagline.
But mostly this makes me wonder if Linklater's been cornered. Since "School of Rock," his movies have been financial underperformers (if, in the case of "A Scanner Darkly," probably another dorm-room wonder), except for an ESPN documentary called "Inning by Inning: A Portrait of a Coach" no one seemed to know about. It's like his unofficial financial model has been discovered and found lacking. If Linklater got tagged — unfairly — as a slacker filmmaker, it has to be said his movies followed the same model financially. And now they're not allowed to wait years for a following.
[Photo: "Dazed and Confused," Gramercy Pictures, 1993]