The Many Meanings of Chris Smith's "Collapse"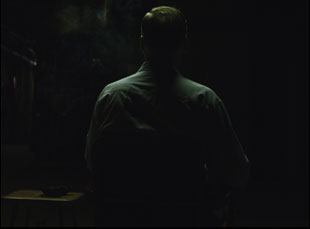 Posted by Stephen Saito on
"Collapse," the title of Chris Smith's new documentary, is a loaded word that applies to the film in a variety of ways. Its obvious implication concerns its main subject Michael Ruppert, a former police officer who turned in his gun and badge for a library card and a newsletter-turned-web site called From The Wilderness, which prizes itself on intensely researched investigative work about government corruption, corporate malfeasance and suspicious activity in every corner of the globe. When presented with the idea that he's a conspiracy theorist, he quickly replies, "I deal in conspiracy fact." And the facts he presents in "Collapse" are both overwhelming and chilling, as he lays out the ways the world is headed towards economic and environmental Armageddon.
"Collapse" could also refer to how Smith has wasted no time in releasing the documentary — it's been only eight months since he first met Ruppert for a narrative film he was developing and just over a month since the film made a triumphant premiere at this year's Toronto Film Festival. In a sign of the times, "Collapse" will be released simultaneously in theaters and on VOD through Cinetic FilmBuff, where the claustrophobia-inducing nature of Ruppert's analysis of the global financial crisis will literally hit home. Yet "Collapse" may resound most as a compelling portrait of a man whose views have alienated many and whose work has come at a great personal cost. Shortly after putting the finishing touches on the film, Smith called to talk about the film's reception in Toronto, dropping everything to finish it and getting inside Michael Ruppert's head.
Why the rush to release this?
It felt like the movie was very much about what's happening now. It's very much a film that people, when they see it, want other people to see it so they can talk about it — parts they agree with, parts they disagree with. Seeing that energy out of Toronto, it just made us all the more want to get it out as fast as we could.
It's explained very succinctly at the beginning that you met Ruppert while working on another film about the CIA's connection to drug smuggling, but why did you decide to switch gears to make this film instead?
We were looking at a lot of different narrative projects and one of the directions we were going in was the CIA-drug connection and in doing that, we set up to meet with Michael Ruppert. At the time, I'd said to myself that I was going to stop working on documentary films and move back to narrative, which is where I started in 1996 [with "American Job"]. It's funny how you can think and plan what you want to do in your life, but it doesn't always happen that way.
I think when we met Michael, he was such a fascinating character that it just was just too hard to pass up. Initially, it was more [like] let's do this small side project where we'll film him for a couple days, cut it together quick and see what happens. Then of course, as you get into a project and you start getting further and further invested on a creative level, it can evolve and change into something else. It just seems exciting that from inception to release has been something like eight months. When you compare it to our past films and probably most independent films, that period is generally much longer.
Your previous documentaries like "American Movie" and "The Yes Men" have had a vérité style that has let life unfold, but I would imagine this was a different experience since you have a controlled environment and appears you knew more about what to prepare for, to a certain degree.
Well, I'm glad that it appears that way. [laughs] This one was incredibly challenging because to be able to question Michael and to even try to debate him on certain things required so much research in terms of trying to take in everything that he was going to talk about. He covers so many different subjects and his breadth of knowledge is so vast. But yeah, we had much more control. In the other documentaries at least, and even to some degree on the way we made "The Pool," you're at the mercy of the situation. In those films, it was really about trying to capture as much as you could in the period that you were filming and then put it together in the end, whereas this one was really about trying to prepare as much as you could before so that you could then allow the interview to unfold in a way that felt natural. I wanted to be able to have a dialogue with Michael. When he's working off of a train of thought is when he's at his best — when you can keep the conversation going as opposed to stopping and saying okay, let's get back to this subject and do these in order. I think one of the things that worked really well in the way that we made the film was the ability to just roll with it and let him go off on tangents and be able to follow up with questions that furthered that conversation.
Did Ruppert seem immediately interested when you proposed a movie?
I think he was okay with it. He wasn't interested in going back to the past and trying to work on something about that period of his life because he felt so consumed about what was happening now. That was very clear to us. So we wrote him a proposal of what we wanted to do, a sit-down interview about his book and the material that's covered, but beyond that, his life and how he's gotten to this point. Ultimately, to me, the film is more a character study on Michael than it is a full examination of the issues that he presents.
Many people have made movies [about the breakdown of society] whether it's food or energy or economics or population, but all those deservedly have been films on their own or are big enough issues that you could make a film on each one. What we thought was so interesting [about] Mike as a person [is] the way that he thinks about the world.