Chris Columbus, protector of children.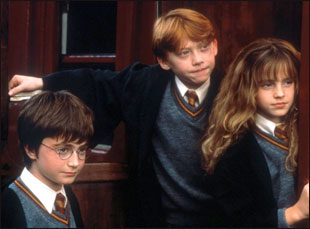 Posted by Vadim Rizov on
Some directors are automatic punchlines, their names synonyms for lousy. There's Adam Sandler cohort Steve Brill ("Without A Paddle," "Drillbit Taylor"), Eddie Murphy's favorite Brian Robbins ("Norbit," "Meet Dave") and of course Shawn Levy ("A Night At The Museum," "The Pink Panther," "Cheaper By The Dozen"), who pays the bills as perfunctorily as possible. The godfather of them all may well be Chris Columbus, a man so prone to alternating equally leaden bathos and comedy it's amazing he once had it together enough to write "Gremlins." His resume is one of shame: the first two "Home Alone"s (they're terrible, get over it), "Bicentennial Man," this year's ghastly "I Love You, Beth Cooper"… the list stretches on.
But even the hackiest director has redeeming qualities, though they might not be visible onscreen; as Geoff Boucher points out at the LA Times' "Hero Complex" blog, Columbus is good at launching and protecting child actors. Talking about the Harry Potter trio of Daniel Radcliffe, Emma Watson and Rupert Grint, Columbus said watching them grow up and take on more roles without flipping out into the usual child star problems gave him "the feeling of a proud parent."
He may be lousy behind the camera, but Columbus sounds sincere and deft when it comes to discussing how he cast the kids not just as actors but as people with secure families who could look after them. "I realized that we needed to start casting kids based on their families and the security that their families could give them at this particular time in their lives," he notes.
As it happens, Columbus has had an unusual amount of experience launching kid stars. It went wrong with Macaulay Culkin, whose '90s battles with his parents were one of the sadder tabloid spectacles of the decade. From that Columbus has apparently learned much: since then, he's given first big parts to Mara Wilson ("Mrs. Doubtfire"), Jena Malone ("Stepmom") and the Potter clan, all of whom have turned out well-adjusted and just fine, at least as far as we know. If we must have terrible "family" fare, it's good to have someone ethical in charge of them.
Speaking of Culkin, here's an insurance ad from the UK where he appears alongside Bruce Willis, Ringo Starr and Michelle Yeoh. Culkin comes on screen briefly and says "Remember me," which is oddly moving if you remember the '90s well:
[Photos: "Harry Potter and the Sorceror's Stone," Warner Bros., 2001; "Home Alone," 20th Century Fox, 1990]