Caravans of animation riding into the future.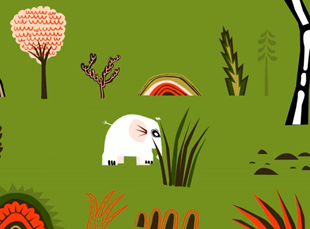 Posted by Vadim Rizov on
I can't say that I spend all my nights up sleepless worrying over the future of short-form animation; it is, however, easy to say that it's hard to know where new audiences will come for any commercially marginalized form of film, be it a three-minute short or a three-hour arthouse epic. So hat-tip to Cartoon Brew for pointing me to the Puck Cinema Caravana, a small RV-type vehicle that rolls around Spain, inviting seven people at a time to come in and watch "a wide selection of international films from all around the world that have been made throughout time" you won't see on your TV.
This is a pretty awesome idea, if not entirely unique: as pointed out in the comments, there's also — on a larger scale — The Groovy Movie Picture House and Estonia's Kinobus. This is, nonetheless, a neat little model that bears further investigation. To the extent the Internet has democratized the short-film playing field a bit — i.e., it's easier than ever to get people to check out reasonably short material on YouTube — you still have to push yourself to find that stuff, meaning you have to be aware that there's something other than dumb memes and music videos available. And how do you promote that awareness? By traveling from one small town to another, peddling cinematic gateway drugs to bored youth without many options and sending them back to their computers full of energy and inspiration.
The problem, obviously, is that many small towns in America have found a way to fill the void: sports, specifically football, frequently to the exclusion of all else. But non-profit, touring vans staffed by the devoted bearing different — but not too exclusionary — shorts/features/what-have-you could be a very useful tool indeed. And, of course, careful self-promotion helps. The Puck Cinema Caravan's totally adorable trailer is below:
Puck Cinema Caravana from carles porta on Vimeo.
[Photo: from the above trailer, made by Carles Porta/Ruben Hengesbach/Toni Tomas, 2009.]