Brother vs. brother: Zucker fight.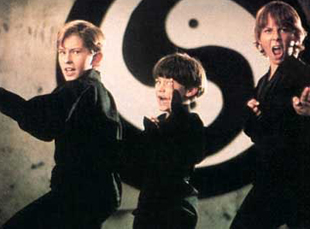 Posted by Vadim Rizov on
Greenpeace is a good organization that's kind of itchily annoying, the same way a college activist getting you to sign a worthy petition is — a point driven home quite literally when Bruce Willis was whacking activists with golf balls from his oil rig in "Armageddon." That image might be a good one to keep in mind when reading the news that arch-hack Jon Turteltaub ("National Treasure," "Phenomenon," "Cool Runnings," "3 Ninjas" — a résumé to set your heart a-flutter) is all set to go on a biopic of the nascent Greenpeace movement of the '70s and early '80s: get ready for heart-pounding hilarity and adventure as seal and whale hunters meet their match in a scrappy, ragtag team of "pacifists, ecologists, musicians, teachers, sailors, and scientists." Wacky!
More notable, though, is who's producing: Jerry Zucker and wife Janet. Zucker is, of course, part of the Zucker-Abrahams-Zucker team that was responsible for the much-loved "Naked Gun" and "Airplane!" movies; after the partnership dissolved, everyone went their own ways. The most "serious" of the bunch, Jerry made "Ghost" and the little-loved King Arthur movie "First Knight" (Richard Gere as Lancelot!). Brother David, meanwhile, became a 9/11 conservative, stemming his lifelong liberalism to channel his concern for national patriotism into films like "An American Carol" — a stillborn satire rewriting "A Christmas Carol" with a Michael Moore figure in the role of Scrooge who discovers he doesn't want to destroy America after all. It's, um, "special."
So you could view Jerry Zucker's entering the politicized filmmaking arena as kind of a rebuke to his brother's politics. His wife and producer Janet Zucker is quoted as saying, "We've found that the best way to reach people's hearts and minds is through entertainment," which is certainly what David tried — and failed — to do. But when I interviewed David Zucker about "Carol" (which was like interviewing talking points, really), he said he'd switched parties "without surrendering my environmentalist beliefs." So this might be the one political point of détente between the brothers and former filmmaking partners.
If you've never seen "An American Carol" — somehow, most people didn't — it's pretty staggering. Here's the trailer. The movie itself is far more offensive. I've included the O'Reilly intro because, you know, it fits:
[Photo: Warriors for Greenpeace? Nah, "3 Ninjas," Touchstone, 1992.]