Britain gets ready for rapsploitation.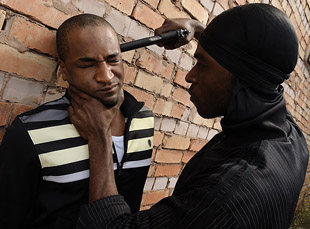 Posted by Vadim Rizov on
Unlike the US — where the ghetto issue movie has for years been its own subgenre — the UK only recently got with the program. Friday sees the release of the UK's first hip-hop musical, "1 Day," which shows how quickly their film industry is adapting to the inner-city turf it previously ignored. In 2004, there was the pioneering "Bullet Boy," followed soon by "Kidulthood" and its follow-up "Adulthood." Watching the trailers in chronological order, the amount of moralizing and ominous music goes way down: the number of gunshots, hoodies being pulled over ominously and aggressive rap numbers goes way up.
1991's "Boyz N The Hood" was the protoypical American "increase the peace" film, when hip-hop soundtracks were the backdrop to stories detailing the need for an end to inner-city violence. This went on for a while ("Menace II Society," "New Jack City" et al.), until the soundtrack became the subject. As Nathan Rabin notes, "Master P's incomprehensible 1997 film I'm 'Bout It unofficially launched the genre of rapsploitation, serving as the first of many low-budget exploitation films written, directed, acted, and/or produced by rappers."
As the "hood life" genre faded into theatrical obscurity — the euphemistic "urban audience" preferring goofy stoner comedies and stuff with Ice Cube and/or Tyler Perry — it found new, mutated life in movies where rappers dramatizing their hard-ass recording personas in unambiguously reprehensible (yet inexplicably self-regarding) form. The pattern is simple and unchanging: man who aspires to higher things sells drugs, puts rap career on hold, everything ends with an over-the-top shoot-out. Collating these movies would take at least a thesis: the most notable examples include Roc-A-Fella's "State Property" and Cam'ron's atrocious "Killa Season," a movie I've seen four times and whose ineptitude never ceases to amaze me.
Britain's hip-hop scene is arguably coming of commercial rap age: see, for example, Dizzee Rascal, who went from being critically acclaimed to knocking Jay-Z off the top of the charts for one week with his latest album. "1 Day" 's intentions are noble; it's directed by 59-year-old Penny Woolcock, who likes to say things like "Hip-hop and grime are an authentic expression of street life. It's the way people tell their stories – like the spirituals and the blues for earlier generations."
But it's already being blasted by politicians for glamorizing violence: true for any film with no explicit "increase the peace" message, sure, but I see no reason to doubt that movies with worse intentions and more violence are on the way. The same way seemingly every major American rapper seemingly has to have a crudely filmed self-dramatization in which violence and drug-dealing are facilely explained away on the grounds of social oppression, the need to support family and so on, I suspect the UK will be getting the same very soon.
[Photo: "1 Day," Blast! Films, 2009]