What the Success of "Precious" Means for Black Indie Cinema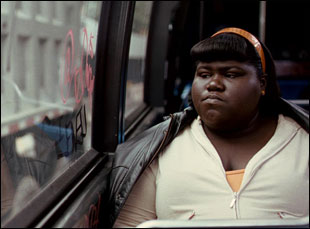 Posted by Anthony Kaufman on
Serious African-American cinema scarcely exists. It arrives in fits and sputters, in the occasional legends (Melvin Van Peebles, Gordon Parks), outliers (Charles Burnett, Julie Dash) or mavericks (Spike Lee). But demanding cinema based around the black experience are largely absent from American screens, displaced by gangstas, guns and masquerading comedians in drag or fat suits (Tyler Perry, Eddie Murphy). The film industry has always loathed challenging movies, no matter the race, ethnicity or gender of their subject matter, but for black creators, making artistic cinema and getting it seen is a near insurmountable task. Can Lee Daniels' "Precious" change all that?
The Sundance-winning, Oprah-backed and Tyler Perry-supported "Precious" broke all box office records for a limited release last weekend, grossing $1.8 million on just 18 screens. The film will expand nationally in subsequent weekends. According to distributor Lionsgate, "Precious" drew an equal share of both black and white audiences — a testament to its broad appeal. However, despite its enormous sales, "Precious" is, so far, the exception, not the rule, and while African-American filmmakers are excited by the movie's early success, they also retain a mix of skepticism and hope for the future.
Some filmmakers remain cautious, because despite "Precious'" dark subject matter — rape, child abuse, poverty, HIV — its very content also conforms to many black cinema stereotypes. As New York Press critic Armond White so viciously penned, "Full of brazenly racist clichés (Precious steals and eats an entire bucket of fried chicken), it is a sociological horror show." Ultimately, the film is also inspirational, with a traditional upward arc and a resolution that leaves viewers feeling good about themselves — hardly the tenets of challenging cinema.
"'Precious' is the sort of black film we've gotten used to seeing," says Barry Jenkins, the San Francisco-based director of "Medicine for Melancholy." "A gritty story of urban struggle and strife — there's nothing wrong with that, but why aren't there other films filling out this portrait of what it's like to be black in America today? Whatever backlash there is against 'Precious,' it's not about the film itself — it's about the dearth of films to complement it."
For Jenkins, it was in February 1997 when the industry got the proof it needed to give up on alternative black cinema. "I always cite 'Rosewood' as the example," he says. "John Singleton wanted to make a serious film about a serious event in American history" — a racially motivated massacre that took place in 1923 — "and not enough people went to see it. And the very next weekend, 'Booty Call' came out, which was made for a fraction of the money, and it did amazing business. It's simply all about dollars and cents."
But Jenkins says the early 2009 release of his no-budget identity-politics rom-com "Melancholy" showed that audiences are hungry for different perspectives on African-American life. Though the movie only played in a handful of cities and the theatrical gross was a tiny $112,000, the film's run was held-over in New York and had strong per-screen averages in San Francisco for 16 weeks.
"There just isn't a precedent for how you release even a quirky [black] film," says Jenkins, who has a new project set up at Focus Features. "Medicine" wasn't even released in urban centers like Atlanta, Philadelphia or Chicago, "because we've gotten to this point where there's the sense that black people aren't interested in movies about black people unless they fit into a specific type of black film," he says. "But what would have happened if the 'Medicine' trailer ran before [Tyler Perry's] 'Madea Goes to Jail'?"
"Mississippi Damned" producer and editor Morgan Stiff also blames the industry for a lack of imagination. From the time that Stiff pitched the project — the story of a down-and-out family in a rural southern town — at the American Film Market in 2007 to the conversations she's had with distributors this year, she's consistently come up against the same resistance: without a star on the order of Beyoncé Knowles, the film is dead in the marketplace's uncharted waters. "The issue is that studios and distributors don't know how to market a black film and are not open to new models to reaching audiences, in general," she says.