Ben Foster: Shooting "The Messenger"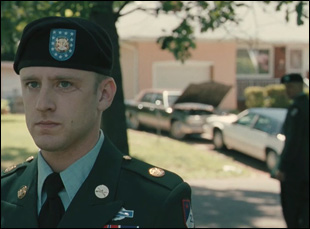 Posted by Aaron Hillis on
Few young actors are blessed with wildly eclectic bodies of work, but 29-year-old Ben Foster has utilized his trademark intensity to play a bisexual art-school student (TV's "Six Feet Under"), a drug-addicted hoodlum ("Alpha Dog"), a winged superhero ("X-Men: The Last Stand"), a Wild West sociopath ("3:10 to Yuma") and a wannabe vampire who steals the show in "30 Days of Night." In his juiciest role to date, the Boston-born actor stars in "I'm Not There" screenwriter Oren Moverman's terrific directorial debut, "The Messenger." Foster plays Staff Sergeant Will Montgomery, a jaded Army vet who has just returned to the homefront after being wounded in Iraq.
Paired up with the hard-nosed Captain Tony Stone (Woody Harrelson), Will is assigned to be a Casualty Notification Officer, a job that, in its own way, may be more difficult than combat. It's an emotionally authentic story of friendship and coping with unexpected jolts of humor, and Foster is sitting pretty to nab an Oscar nomination for his tightly wound but subdued performance. The day after the film's New York premiere, I sat down with him to discuss a certain hippie with a big heart, why "The Messenger" isn't really a military drama, and his cooking abilities.
In preparation for the role, you met with wounded soldiers at the Walter Reed Army Medical Center. What was most surprising about your interactions with them?
How young they are. They're kids. You have this concept in your head of the indestructible character of the warrior, but these are boys and girls. They've got so much light in them, and they're not coming from a political side, either. A lot of them were talking big smack about the last administration. We did this at the end of the Bush reign… of fire. There was a lot of contact. Seeing the wounds up close, touching the wounds — these are experiences you take with you, and you can't get the pictures out of your head.
Why do you think some soldiers fight when they're politically opposed to a regime that's sending them off to war?
There are so many reasons. It can be full blown patriotism. It can be "I just want to make my dad proud." It can be "I want a better education," "I need to get out of this town," "I want to travel," "I want to shoot some shit" or "I want to be a hero." There are so many grays of why someone would enlist. But they're all very brave and motivated individuals, and we're not taking proper care of them. Walter Reed certainly is, at least to our experience, really doing a great job rehabilitating. But that's one spot, and we have 40,000 more troops going back. There's a lot of responsibility we have to take as a country.
That reminds me of a line Harrelson says in the film about the Army being the best family you can possibly have. Is that a half-truth, in terms of taking proper care of the soldiers?
We talked to these guys who got blown up, and they were almost embarrassed — they wished they could be back in the theater of war, back with their buddies, making sure that they don't get shot. So it's this selfless act, and you're looking at this kid who is missing an arm, a leg, he's blind in an eye, and all he wants to do is get back out there. Not for the politics of it all, but for his guys. In that sense, it's so intimate. It's familial. In terms of the best family ever, sure, families are complicated. We don't always know how to express love with our own families. Human beings, we're clumsy. We've got a lot of heart and we don't know how to maybe share it or take it. There's definitely a family element, but all families are fucked up somewhere.
The complex camaraderie between Will and Tony is certainly about not being able to express feelings. They're soldiers; men who don't cry. How did such a sobering experience play out with Harrelson, who is known for being a fun-loving goof?
We shook off the ghosts quite a bit. You know, you have to. [Our connection] was instant, he's one of those guys. You can't not love Woody Harrelson, he just has that thing. He picks his dramatic roles very carefully. What did I tell somebody? "Who are you doing the movie with?" I say, "Woody." "Oh, that's so rad! What's it about?" I'm like, "Casualty Notification Officers." They're like, "What?!" He makes strange choices, he's accessible, he's funny, he's got these eyes, but it's his heart. Woody's heart is so big and he's careful with it, but he gave it. He let it rip on this one. For him to go so against his own type, a self-proclaimed hippie from Hawaii who's actually from Texas, to play someone so… I don't even know what he is. He's a beast. And I love the man to the bone.