Barbet Schroeder's Don Draper.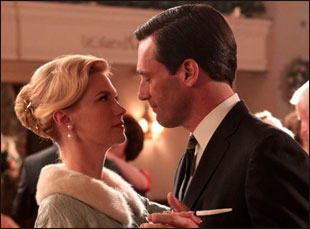 Posted by Vadim Rizov on
"Mad Man," the series with which every critic in the country seems to be smitten except me, lured no less than Barbet Schroeder in to direct last night's episode "The Grown-Ups," Schroeder's first venture into TV and the next-to-last installment of the season. (And one that — whoops — some found disappointing.)
Schroeder's not the first unusual director to pop up in "Mad Men"'s three-season run, though, as an Oscar-nominee who filmed both General Idi Ami and Koko the talking gorilla, and who once threatened to cut off his own finger if he didn't get the money to make "Barfly," he's definitely the oddest.
But Paul Feig, creator of "Freaks and Geeks" and veteran comedy director ("The Office," "Bored To Death"), directed an episode in season one. Tim Hunter, who's helmed six episodes, directed '80s cult teen movie "River's Edge" (starring early career Crispin Glover and Keanu Reeves). And Daisy von Scherler Mayer — who had one of the weirder four-film runs in recent memory with the 1995 Parker Posey vehicle "Party Girl," the Jada Pinkett Smith flop "Woo" (featuring both Dave Chappelle and LL Cool J), children's book adaptation "Madeline" and the Heather-Graham-goes-Bollywood flop "The Guru" — also headed up an episode in this season.
TV directors aren't the breed apart they used to be, and plenty of directors now hop back and forth between film and television without stigma, but "Mad Men" seems to also be popular enough that unexpected talent would jockey for a chance to steer an episode just because they're fans. (Which seems to be the case with Schroeder.) Hopefully Oliver Stone will pop up to direct the inevitable Vietnam combat episode.
[Photo: "Mad Men," AMC, 2009]