20 Ways to Get Your "Arrested Development" Movie Fix*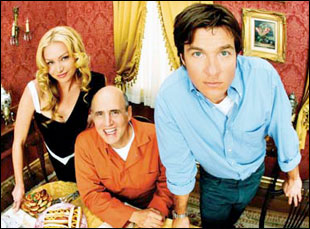 Posted by Matt Singer on
*Until they actually make the movie
Forget Scientology or Heaven's Gate. Today, the biggest cult in our country may very well be the teeming masses anxiously awaiting the return of "Arrested Development." After years of rumors and dashed hopes, it seems the beloved TV show will finally, for real, this time, be reincarnated on the big screen.
But don't break out your Cornballers yet: the film isn't set to hit theaters until 2011. How will you last that long? While you can treasure your DVD collection of all three seasons (or, for that matter, catch re-airs on IFC), you'll probably want to vary things up in the year-plus before we get sweet relief. Off the top of your head, you might know to watch Michael Cera in "Juno," but where can you find Judy Greer in a role as crazy as Kitty Sanchez? Will Arnett as a man as bumbling and self-involved as Gob? Or Charlize Theron and Jason Bateman having more comical (and sexual) misunderstandings than they did as Rita Leeds and Michael Bluth? Nerve and IFC have joined forces to give you all the help you need — here are the 20 best movies to give you your Arrested Development cast fix (until they actually make the "Arrested Development" movie).
Will Arnett (George "Gob" Bluth II): Lou Redwood in SEMI-PRO (2008)
If Gob Bluth ever gave up on magic and turned to booze, he might turn into Lou Redwood from "Semi-Pro," another one of Will Arnett's mellifluous American disasters. Lou is a former forward for the Flint Tropics, the ABA team that Will Ferrell's Jackie Moon has coached into near-bankruptcy. Now a splenetic color commentator for the team, he knocks back whiskeys in between smokes on the sidelines, ogling the cheerleaders and dodging questions about an affair with his broadcast partner's wife. Arnett dons a once-dapper moustache and adds some more gravel to his voice to nail this caricature of faded grandeur. It's as if Gob's narcissism has finally been broken down and replaced with a brittle, drunken shell of self-pity. Whether it's Gob's booming inanities, Lou's bitter diatribes or even his scheming figure skater in "Blades of Glory," Arnett is carving out a uniquely grotesque gallery of American no-talents that's worthy of Preston Sturges.
---
David Cross (Tobias Fünke): Larry Schwartzman in THE GRAND (2007)
David Cross hasn't really played anyone else like bad-doctor-turned-worse-actor Tobias Fünke; the closest he's ever come before or since to replicating Tobias' guileless stupidity is his cameo in Christopher Guest's "Waiting For Guffman," where he plays a dimwitted UFO expert who claims that the spot of a supposed alien landing "is always 67 degrees with a 40% chance of rain." But there are plenty of other "Arrested Development" connections to his role in another mockumentary. Zak Penn's "The Grand" is about a World Series of Poker-style tournament, and the assortment of wacky characters who make it to the final table. Cross plays Larry Schwartzman, a loudmouth player who prefers to beat his opponents by throwing them off their game with intimidation and mockery. The role gives us the chance to see what it would have looked like if Cross had played GOB; like GOB, Larry's trash talk and cocky attitude cover intense insecurities caused by a lifetime of extreme daddy issues. Larry's constantly trying to impress his father (Gabe Kaplan), who always roots for his more successful daughter Lainie (Cheryl Hines). He even left Larry alone as a child for three days while he took Laine to Disneyland, in order to teach him a lesson about competition; that's the sort of thing that George Sr. used to do to teach his children ("That's why you always try to win at checkers!"). The funny and often touching results in "The Grand" suggest that Cross was right for multiple parts on "Arrested," not just the one he wound up with.
---
Portia Di Rossi (Lindsay Bluth Fünke): Tess Tobias in WHO IS CLETIS TOUT? (2001)
The "Arrested Development" writers loved to set up a potentially touching scene and then immediately undercut it with a surprising comedic punchline. A scene might start with George Michael sincerely telling his father how much he means to him, then conclude with Michael responding 'That's a little cornball," followed by a closeup of a small, literal cornball to be cooked in the family's "Cornballer" deep fryer. Experienced "Arrested" viewers could often see these punchlines coming, but they were always a little harder to anticipate when Portia de Rossi's Lindsay was involved. Despite the character's materialism and thoughtlessness, there was always something genuinely sad about Lindsay. She was stuck in a loveless marriage with Tobias, saddled with a bratty daughter, and raised by a mother who constantly made fun of her weight. She didn't let her guard down often, but many of the show's most genuinely emotional moments belonged to her. Even before "Arrested," de Rossi'd proven herself adept at playing sincere amidst silliness in the indie crime comedy "Who Is Cletis Tout?" where her character Tess is, like Lindsay, the daughter of a jailed criminal. Most of the movie is about Christian Slater relating his story to a hitman named Critical Jim (Tim Allen) who sees the world only in terms of movie clichés. Surrounded by Tarantino-esque hitmen, carrier pigeons and Billy Connolly hamming it up as a wisecracking coroner, di Rossi brings some real heart to Tess, a sad young woman who misses her father.
---
Judy Greer (Kitty Sanchez): Penny in THE WEDDING PLANNER (2001)
Whether she's Penny in "The Wedding Planner" or Kitty in "Arrested Development," Judy Greer is the go-to actress for sprightly named, perky blonde assistance. With her precise, bird-like head bobs and chirping line delivery, she adds an eccentric twist to her my-girl-Friday roles. In "The Wedding Planner" she's an asexual super-assistant, covered in tasteful woolens from head to toe while setting Jennifer Lopez up with hunky children's doc Matthew McConaughey. As a character, she's simply a prop, but Greer imbues her with cockeyed ebullience that verges on the grotesque. She loves distorting her cute-as-a-button face with wide-eyed intensity and a slack-jawed grin. In "Arrested Development," she's able to push this way over the top in the show's strong caricatured style. Kitty is a bouncy assistant as well, but a man-hungry, power-tripping one, with a cross-eyed gaze and a frizzy haircut that makes Gob gag. Greer owns the role, a carefree bit of nerdy sexual aggressiveness that is bracingly unique.
---
Ron Howard (Narrator): Sam Freeman in GRAND THEFT AUTO (1977)
Ron Howard wasn't just the narrator of "Arrested Development," he was also an executive producer. Yet he's rarely discussed as one of the "authors" of the show. If you want to make the case that Howard played a bigger role in shaping "Arrested" than he's given credit for, check out Howard's directorial debut, "Grand Theft Auto" and note how many thematic similarities the two share. In both, Howard plays the voice of reason in a world dominated by greed. Both also feature intensely unfavorable depictions of wealthy families and both delight in knocking their rich characters down a peg or two. Howard stars in "GTA" as Sam Freeman, an average guy who wants to marry a powerful industrialist's daughter; when he rejects their love because Sam's not good enough for her (shades of the Bluth's reaction to George Michael's "bland" girlfriend Ann Veal), the pair steal her father's Rolls Royce and head to Vegas to elope. Paul's rival for his girlfriend's affections is a composite of Lindsay (spoiled, privileged brat) and Buster (immature mama's boy) named Collins Hedgeworth (Paul Linke). Plus "GTA" isn't just about a family, it's by a family: Howard co-wrote the film with his father Rance, who also co-stars, along with Ron's brother Clint.