A guide to Roland Emmerich's early work.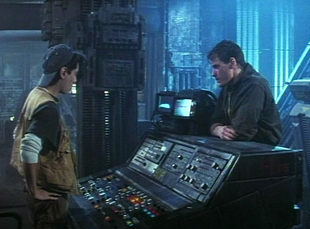 Posted by Vadim Rizov on
I've had so much fun writing about "2012," I'm almost sad it'll actually be coming out next Friday. Almost. In a fairly amazing recent interview with Roland Emmerich, the schlock auteur explains he could get away with casting John Cusack because "I make movies where the movie itself is the star" and says it's totally cool that "2012" is a whopping 158 minutes because "The ten most successful movies of all time are all around three hours long. My favourite movie, 'Lawrence of Arabia,' is four hours. So there!" Same thing!
But what really caught my eye was an allusion to one of his earlier films, "The Noah's Ark Principle," which Emmerich says "was also about morality and what you can and can't do in these situations." Earlier film? I thought he hit the ground running with "Universal Soldier" and "Stargate." How wrong I was. Here, for your edification and mine, is a guide to the early work of Roland Emmerich:
The Noah's Ark Principle (1984)
After 1979's short "Franzmann" (set in 1937, about a young German lad who has to figure out whether to go study in France or stay and join the army), Emmerich's first feature was a class project, made for one million deutschmarks, which premiered at the Berlin International Film Festival. Really! It's about an international space station named FLORIDA ARKLAB that, in the words of DVD Verdict's Michael Rankins,"becomes a pawn in an international chess game involving American hostages in Riyadh. The suits on the ground have stumbled on the notion of employing the space station's radiation blasters as weapons of mass destruction (funny how no one thought about that before the thing went up). Will Billy and Max carry out their new orders to wreak havoc on behalf of the American government, or will they remain true to their peaceful humanitarian mission?" Here's a clip from the opening, nicely highlighting Emmerich's shameless steals from "Alien" (that crawl of the space station across space's inky black) and "2001" (a computer named H.A.R.V.E.Y.):
Joey (1985)
Emmerich followed up "Ark" with "Joey," aka "Making Contact." Despite have studied several plot summaries, the movie still doesn't make any sense to me, but as far as I can tell it's basically about a boy who discovers he has telekinetic powers, which brings him into contact with an evil ventriloquist's dummy that lives in his closet and opens another world there. Here's a trailer that does not clarify anything, but does seem to indicate several "Close Encounters of the Third Kind" likenesses:
Ghost Chase (1987)
Also known as "Hollywood-Monster," this was the first Emmerich film to be shot at least partially in the US. As with "Joey," it appears to be difficult to summarize, but it's essentially about three guys who unleash a ghost that comes out of an old clock and leads three aspiring filmmakers to a lot of money they can use to finance their movie. If you watch only one of these clips, let it be this superbly hacky one, replete with campy '80s, a ghost that looks like "E.T." (or maybe just "E.T." rip-off "Mac and Me"), a sword-fight with a spectral knight against a strobe light, and a narrator who insists on making bad puns: "They may not have a ghost of a chance, but they're gonna have the time of their lives!" Amazingly, this saw the light of theatrical projection in the US, a first for Emmerich.
Moon 44 (1990)
The last Emmerich film to go direct-to-video in the US, "Moon 44" is closest in spirit to where Emmerich would end up in his career. "The year 2038," the narrator intones in the trailer, "a world of intergalactic corporations locked in ruthless rivalry." According to IMDb commenter junk-monkey — who deems it "testosterone driven pile of pseudo homo-erotic horse cookies masquerading as an SF movie" — this standard-issue robots-vs-humans on a outer-space mining station movie has some truly memorable characters: "these guys ARE as thick as two short planks because, having been told that their lives are in the hands of their teenage navigators they seem to think it's a good idea to anally rape one of them in the shower." Also, at some point someone says "I got fed up with talking to my French fries." And after this project, well, it was on to "Universal Soldier" and glory!
[Photo: "Moon 44," Lions Gate, 1990]