There's a movie about Tom Jones' genitals.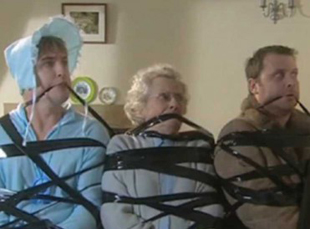 Posted by Vadim Rizov on
If you're anything like me, you often think to yourself "Gosh, 'Mars Attacks!' is really funny and by far Tom Jones' finest moment on screen, but I wish there was more material about his penis in it."
OK, so maybe that isn't true.
Regardless, at long last a movie dedicated to Tom Jones' junk has arrived. It's called "A Bit of Tom Jones?", and it's a Welsh comedy so low-profile it doesn't yet have an IMDb entry, though it's in the midst of a successful theatrical run in Wales. The original title — the point-blank "Tom Jones' Cock" — was sadly not usable for practical reasons.
The plot sounds very "Waking Ned Devine," albeit instead of a lottery scam it has a bunch of Welsh barhounds running around with Jones' severed member, trying to sell it off for the right price. It's a notable regional success, outselling "The Fourth Kind," which is maybe not that impressive, but also outselling "This Is It," which is.
The stories the team behind "A Bit of Tom Jones?" tells of what it means to self-distribute a low-budget 35mm comedy would put most American indie tales to shame: at one point, reports the Guardian, they were playing one print at two theaters with staggered screenings, starting it at one location, then running the reels over to the next theater.
Tom Jones fans seem to be taking the film in stride, and the man himself remains notably silent on the subject. The question for all you worriers about "the future of independent cinema," of course, is if it's possible to gain national and international attention by platforming off regional love.
"A Bit of Tom Jones" is a film from Southern Wales, which there aren't many of, and Jones is one of Wales' more famous sons. But terrible movies are filmed in all 50 states here pretty much all the time, many of which remain buried in their regional premieres. So no, this doesn't mean anything. But it is pretty funny. The trailer:
[Photo: "A Bit of Tom Jones," Tred Films, 2009; "Mars Attacks!," Warner Bros., 1996]