Wicked Stepfathers, Law Breaking Citizens and Wild Things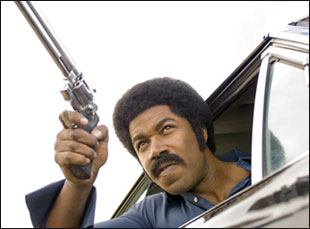 Posted by Neil Pedley on
"The Maid"
Chilean helmer Sebastián Silva's slow-burning domestic drama was a big hit at Sundance earlier this year, collecting both the Grand Jury Prize for World Cinema and an acting award for its star Catalina Saavedra. Built on one woman's emotionally stunted attachment to the family she's served for 23 years, this tightly wound character study stars Saavedra as a live-in housekeeper whose fastidious devotion turns to territorial passive aggression when the family decides to hire another maid to lighten her load. In Spanish with subtitles.
Opens in New York.
"The Ministers"
Continuing to build on the promise of his debut "Empire," the latest from writer/director Franc. Reyes is another urban crime thriller set amidst the blood-soaked streets of New York City. "Empire" star John Leguizamo does double duty as Dante and Perfecto Mendoza, a pair of vicious vigilante twins from the South Bronx, one of whom begins a relationship with NYPD detective Celeste Santana (Florencia Lozano), who's investigating the arson-related murder of her father 13 years earlier. Harvey Keitel co-stars as Santana's hardnosed captain.
Opens in limited release.
"New York, I Love You"
Scarlett Johansson's directorial debut segment may have been left on the cutting room floor, but this collective serenade to the Big Apple still boasts a plethora of big-name filmmakers, both established and emerging. 11 directors, from Fatih Akin to Brett Ratner, come together to create a kaleidoscope of vignettes showcasing life and love in the city that never sleeps. Shia LaBeouf, Bradley Cooper, Maggie Q, Ethan Hawke and Natalie Portman (who also directs a segment) are just a few of the actors in the anthology film's vast ensemble.
Opens in limited release.
"Opa!"
The title "My Big Fat Greek Archeological Dig" is perhaps too on the nose, so "Opa!" will have to do for this rom-com set amongst the Greek ruins from "My Son the Fanatic" director Udayan Prasad. Having premiered at the Toronto Film Festival in 2005, "Opa!" might have been in danger of becoming a lost historical artifact itself, but audiences will finally see Matthew Modine as Eric, a reserved American archeologist on the hunt for the cup of St. John, a prized find that was the goal of his late father's life's work. When a local Greek goddess (Agni Scott) catches his attention, Eric begins to think of greater treasures than his father's beloved chalice.
Opens in limited release.
"The Stepfather"
Most entries into the "crappy parent" subgenre focus on either alcoholic moms or deadbeat dads that for whatever reason aren't there, so this retread of the cult '80s homicidal homemaker franchise is both oddly derivative and strangely refreshing. Screen Gems must've liked what they saw with last year's "Prom Night" remake, wasting no time in rehiring TV helmer-for-hire Nelson McCormick to oversee this one, with Dylan Walsh taking Terry O'Quinn's place as an unrepentant sociopath with a murderous past who comes to town and courts a divorced mom (Sela Ward) only to arouse the suspicions of her teenage son ("Gossip Girl"'s Penn Badgley) when he arrives home from military school.
Opens wide.
"Warning!!! Pedophile Released"
With the debate currently raging over the fate of Roman Polanski, Shane Ryan's provocatively titled follow-up to his "Amateur Porn Star Killer" trilogy is well-timed to feed into/off of the frenzy. Part social commentary and part relationship drama, the film tells of a convicted sex offender (Ryan) who reunites with his now 18-year-old victim (Kai Lanette) after a six-year prison stretch to continue their relationship, much to the disgust of the community at large. To make things more uncomfortable for audiences, "Pedophile" will be preceded by "Father Xmas," the first short film to star Dakota Fanning, during its run at the Laemmle Grande 4-Plex.
Opens in Los Angeles.
"Where The Wild Things Are"
Now that the panicked cries of studio execs ('Think of the children!') over that early test footage have become but a distant memory, audiences are already beginning to shuffle in a nostalgic trance towards the multiplex in anticipation of Spike Jonze's take on the Maurice Sendak classic. Having dragged this labor of love through development hell for more than a decade, Jonze and Dave Eggers' adaptation expands the nine sentences and indelible imagery of Sendak's children book into a fully fleshed-out, animatronics-assisted narrative. Pint-sized thespian Max Records takes the role of Max, the naughty boy whose bedroom-busting imagination sees him anointed King of the Wild Things. Catherine Keener co-stars as Max's mom, while James Gandolfini, Paul Dano, Catherine O'Hara, Forest Whitaker and Chris Cooper all lend their voices to Max's friends in the forest.
Opens wide.