Wicked Stepfathers, Law Breaking Citizens and Wild Things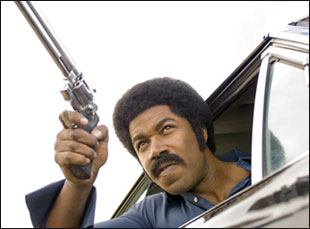 Posted by Neil Pedley on
This week in theaters finds some late-to-the-party summertime silliness lining up alongside a couple of titles arriving three weeks early for Halloween. Elsewhere the arthouse scene provides a strong showing with Chilean maids, Filipino mothers and some good ol' New York psychos.
Subscribe to the In Theaters podcast: [XML] [iTunes]
"Adela"
The only person who's worked harder in the Filipino film industry over the past three years than director Adolfo Alix Jr., who's made 11 features since 2006, is his leading lady Anita Linda, who has made 13 in the same time and plays the title role in this minimalist mood piece as stand-in for an entire nation's embittered resilience. Captured in a series of long takes, the film follows our eponymous heroine on a mostly silent odyssey, casually aiding neighbors and strangers alike as she wistfully celebrates her 80th birthday in the shantytown where she lives. In Tagalog with subtitles.
Opens in New York.
"All The Best: Fun Begins…"
So bold, bright and colorful you'll swear it's really a detergent commercial, this manically energetic farce of mistaken identity is the latest from Bollywood helmer Rohit Shetty, son of legendary fight composer Late Shetty. Sanjay Dutt stars as Dharma Kapoor, a suave millionaire whose baby bro Veer (Fardeen Khan) lives off him and constantly disappoints as an aspiring singer until Dharma comes to believe that Veer has married a smoking hottie who is, in fact, the wife of Veer's best friend (Ajay Devgan). In Hindi with subtitles.
Opens in limited release.
"Black Dynamite"
Two decades have passed since the Wayans' "I'm Gonna Git You Sucka" last delivered a few nudges to the ribs of the blaxploitation genre, so it's high time that renowned martial artist Michael Jai White took his shots with this loving spoof that sees the star armed with big guns and bigger hair. White continues to make inroads behind the camera by co-writing the script (with Byron Minns and director Scott Sanders) about a former CIA agent who returns to the hood following the murder of his brother to do battle with — who else? — The Man.
Opens in limited release.
"Creating Karma"
With the rancid taste of the unmitigated comedy disaster that was "The Love Guru" still fresh in viewer's mouths, it's a brave person (or in this case, two) that would bring campy sitar players and kooky New Age therapy back to the big screen so soon. A directorial bow for musician and composer Jill Wisoff, this quirky comedy finds a well-to-do fashion magazine editor (co-writer Carol Lee Sirugo) undergoing a radical transformation into a poet when she moves in with her hippie half-sister (Wisoff).
Opens in Los Angeles.
"Food Beware: The French Organic Revolution"
The original title of this French documentary — "Nos Enfants Nous Accuseront," which translates to "Our Children Will Accuse Us" — is a more telling label of what documentarian Jean-Paul Jaud delivers in this damning assessment of our addiction to processed foods. Jaud travels to village of Barjac to make the case for organic food, showing how damaging the use of pesticides have been to the locals and pointing the finger squarely at Generation X'ers for raising a crop of children that, for the first time in modern history, will grow up to be less healthy than their parents.
Opens in New York.
"Law Abiding Citizen"
After checking out the trailer for this one, we're honestly not sure which seems more absurd: the sprawling, Machiavellian plot driving this thriller, or the idea that we're asked to buy that Gerard Butler is the man pulling the strings. But hey, aim high and you might hit the middle, right? Offering himself up in his third high-concept flick in as many months, Butler flexes his cerebral muscles as a condemned man orchestrating a campaign of violence from behind bars against the U.S. attorney (Jamie Foxx), who wrote up the plea bargain to release the murderers of his wife and child, and all others who helped secure their release. "The Italian Job" helmer F. Gary Gray directs.
Opens wide.
"The Little Traitor"
A longstanding advocate of a two-state solution to the Israeli-Palestine conflict, Israeli author and journalist Amos Oz wrote the novel ("A Panther in the Basement") providing the inspiration for Lynn Roth's sophomore feature, set in the months leading up to the birth of the state of Israel in 1947. Ido Port fills out the role of Proffy, an 11-year-old boy whose pie-in-the-sky plans to blow-up Buckingham Palace with his buddies dissipates when he develops a friendship with a kindly British sergeant (Alfred Molina) during the British-Zionist conflict that places him at odds with his family and friends.
Opens in New York.