Play Lloyd Dobler off, Keyboard Cat.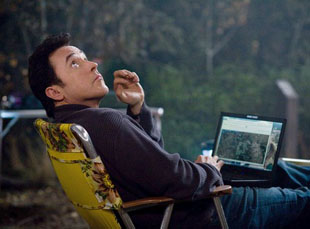 Posted by Vadim Rizov on
As part of the giant marketing campaign behind the latest Roland Emmerich apocalypse porn extravaganza "2012," Sony Pictures released a five-minute clip of the film showcasing just a few of the no doubt many ways mass destruction will be wreaked within its full run-time.
And no sooner was that accomplished than some pseudonymous smartass used the footage to cut together an alternate "2012" excerpt, one which gets rid of all those distracting effects so that we can concentrate on what really matter — the performances:
It's an easy comic lay-up, but still funny. Thrill as Amanda Peet says "Buckle up!", marvel at all the variations of "alarmed face" expressed by John Cusack and Tom McCarthy, and so on. The point of this recut (which ends, of course, with Keyboard Cat playing the whole sorry mess off) is presumably that the acting in disaster movies is always a source of inadvertent hilarity. "2012" does have far more overqualified thespians than it could possible need: Chiwetel Ejiofor, Woody Harrelson and Oliver Platt are on board as well.
But what the clip really brings to mind is how incidental these actors seem in a movie in which the effects are, without question, the real star. What's it going to take for someone to make the first disaster movie with no real plot or actors, just extras running and screaming for their lives?
Think about it: people always whine about the exposition, critics complain the actors might as well be computer-generated like everything else and valuable explosion time is taken up by all that dialogue. I'm saying: One movie. 90 minutes. A few ominous God's eye view establishing shots, then… uninterrupted destruction! The problem is what'll be doing the destruction: Aliens? Monsters? The weather? All three? A new villain? (Maybe we can bring back the killer bees from "The Swarm"?) Whatever — these are the problems we pay producers and writers to figure out. Tell me I'm wrong and "The Day After Tomorrow" wouldn't be much improved by the removal of all those soggy issues of father-son reconciliation.
[Photo: "2012," Sony, 2009]