A kids' movie that's not for kids.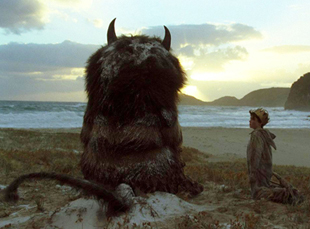 Posted by Vadim Rizov on
Anne Thompson at indieWIRE believes "Where The Wild Things Are" is too expensive to succeed commercially, and I think she's probably right. Standard movie math says a studio film needs to gross two and a half times its budget before it can start being profitable; in that case, "Where The Wild Things Are" would need to make $250 million just to break even, which is a hell of a lot for a seriously weird movie with something for everyone but not enough of anything to satisfy anyone.
But apparently to dare to imply that "Where The Wild Things Are" won't save the world will bring the wrath of the internet upon you. The first comment response to Thompson's post begins "You're an idiot," and goes downhill from there. There are people on the web who really need this to be the be-all, end-all movie about childhood, something that suggests the fears and forgotten traumas of difficult times; presumably, "E.T." just isn't enough. (Have you seen "E.T." lately? It's brutal, way more so than Jonze's movie.) One of the best jokes about "Wild Things," oddly, is the fact the mundane-voiced monsters are mostly just neurotic adults dealing with their emotional problems in far more sublimated ways than kid Max does; it's hard to see the message that emotional problems never go away resonating with children.
Whether or not "Where The Wild Things Are" will actually appeal to a child audience, there's definitely a hunger for non-sentimental movies about children — a genre that's mostly been confined to the art-house ghetto (see "Ponette"). In an odd way, "Where The Wild Things Are" is dipping its toe into those waters. Its success will have less to do with how the movie's actually received and more to do with how primed people really are for a kids' movie not for kids.