Video Premiere: Alexandra Hope – The Mirror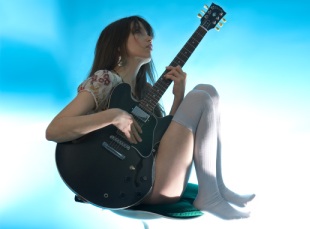 Posted by Brandon Kim on
Oh bugger, have I got a treat for you. Chanteuse/guitarist Alexandra Hope sounds like PJ Harvey and Sonic Youth in a dream about Charlotte Gainsbourg. She's an American and plays guitar like one, but the way she puts on airs is decidedly French — hot dark simplicity.
Hope started out, like many geniuses, in the Midwest, and opened for the likes of Elliot Smith before moving to Paris. There, she honed her sound and vision, landed on French radio and probably drank better wine. She has returned to us now Stateside and recorded an album called "Invisible Sunday."
Did you see director Keith Musil's video for Rainbow Arabia's "Omar K"? The wild child/werewolf produce hater encores in this Musil-helmed video for Alexandra Hope's "The Mirror." I'm so pleased with it, It's got everything a video should have, including a crazy amount of naughty. Watch it right here, only on the Indie Ear.
Alexandra Hope's debut record, "Invisible Sunday," is out on Manimal Vinyl.