Vampires, "Antichrist"…and It's Not Even Halloween Yet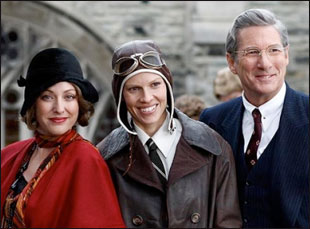 Posted by Neil Pedley on
This week finds early awards season contenders lining up alongside a queer cinema double bill, a troupe of unorthodox vampires and a horror movie franchise that's become torturous in more ways than one.
Subscribe to the In Theaters podcast: [XML] [iTunes]
"Amelia"
Awards season takes flight with celebrated director Mira Nair's biopic charting the early life and rise to prominence of pioneering aviatrix Amelia Earhart. Hilary Swank produced and stars as the elusive Kansas-born pilot as she perilously navigates the skies, the trappings of fame and her romances with publisher George Putnam (Richard Gere) and Gene Vidal (Ewan McGregor). Christopher Eccleston, Cherry Jones and Mia Wasikowska join the heavyweight cast in this pic whose Oscar-friendly subject matter may allow it to fly under the Academy's expanded Best Picture tent.
Opens in limited release.
"Antichrist"
Controversial from the word go, Danish provocateur Lars von Trier's psychological horror yarn, replete with talking woodland creatures and graphic genital mutilation, sparked heated debate amongst viewers beginning with its very first press conference following its unveiling at Cannes. Von Trier's latest exercise stars Willem Dafoe and Charlotte Gainsbourg as a nameless couple who retreat to a possibly haunted cabin in a deserted forest so that he, a therapist, can treat his wife's grief over the recent accidental death of their child.
Opens in limited release.
"Astro Boy"
David Bowers' first crack at the directorial whip — the rodent adventure "Flushed Away" – might have prematurely ended the fledgling partnership between Aardman and DreamWorks, but that didn't dampen his enthusiasm he returns to work here for Imagi Entertainment, the Hong Kong computer animation outfit who brought us the recent "TMNT." Based on the Japanese manga series first published in the '50s, "Astro Boy" tells of a future where androids exist amongst us, leading Dr. Tenma (Nicolas Cage) to construct a robot child (voiced by Freddie Highmore) in the image of his deceased son, except with super powers. Kristen Bell, Bill Nighy, Eugene Levy, Samuel L. Jackson and Donald Sutherland round out the supporting voice cast.
Opens wide.
"The Canyon"
Why must filmmakers torment young couples? Following in the footsteps of relatable and skillfully executed thrillers like "Open Water" and "Paranormal Activity," director Richard Harrah strands naïve honeymooners Eion Bailey and "Chuck" star Yvonne Strahovski at the bottom of the Grand Canyon after their unlicensed tour guide (Will Patton) is incapacitated, leaving the couple at the mercy of the elements in this less-is-more vacation nightmare.
Opens in Los Angeles and Denver.
"Cirque du Freak: The Vampire's Assistant"
With 18-25-year-old males not exactly falling over themselves to embrace Stephenie Meyer's looky-no-touchy "Twilight" saga, studios are clamoring for any vampire fiction they can find that might get the guys to hand over their money with similar vigor. While the film's subtitle is a bid to cash in on the recent bloodsucker fever, this adaptation of the first three installment in Darren Shan's 12-book series trades passionate embraces for cool superpowers in the story of a young teenager (Chris Massoglia) who's inducted into a fellowship of the undead when he trades in his humanity to ringmaster John C. Reilly's Cirque du Freak to save his best friend (Josh Hutcherson).
Opens wide.
"Eulogy for a Vampire"
Queer cinema director Patrick McGuinn offers up another kind of vampire story with this
erotically charged supernatural mystery in the tradition of surrealist horror. Working from a script by Andre Salas, the film centers on a monastery that was the site of a murder 25 years earlier that comes back to haunt its head priest (Wilson Hand) when a mysterious young drifter (Angelo Tursi) infiltrates the sanctuary and sets about seducing its members one by one, transforming them into the undead.
Opens in New York.
"Hannah Free"
Playwright Claudia Allen adapts her own play for the screen as director Wendy Jo Carlton comes onboard to reflect on the long and arduous struggle for gay rights through the story of a forbidden romance between two women now in the twilight of their lives. With her mind and heart still willing after the rest of her body has given up, a bedridden Hannah (the venerable Sharon Gless) recounts to an eager young college student (Jacqui Jackson) her lifelong love affair with Rachel (Maureen Gallagher), who now lies comatose down the hall.
Opens in Los Angeles.
"Killing Kasztner"
Between stock market hype and mail-order brides, documentarian Gaylen Ross has shown something of a fascination with people who make big decisions and then later come to regret them. Here, she tackles the controversial legacy of divisive Jewish-Hungarian lawyer Israel Kasztner. Murdered in Israel in 1957 by right-wing extremists, Kasztner was a man whose negotiations to save more than 1,600 Jews during the Holocaust was celebrated by some and vilified by others who believed his collaboration with the Nazis made him a traitor to his people. Ross attempts to clarify matters with a history compiled from interviews with survivors and descendants of those who were affected by his wheeling and dealing.
Opens in New York.