The Sandbox: Five Rules for Making a Decent Video Game Adaptation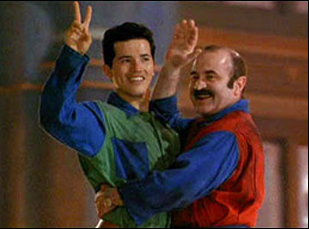 Posted by Nick Schager on
For the past 20 years or so, Hollywood has seemed intent on proving that video games aren't fit to be cinematic source material. How else to explain the dismal quality of the average game-to-film adaptation? But games and movies aren't inherently incompatible, provided that directors use some common sense when heading down that treacherous adaptation path. Here's my list of five guidelines that, if followed to the letter, should help future filmmakers succeed where so many before them have stumbled.
1. Costume changes are okay.
As with comics, video game heroes are often defined by their distinctive get-ups. And in certain instances — like Lara Croft's snug spelunking short-shorts and T-shirt — those outfits are capable of making a relatively easy transition to the silver screen. But the rest of the time, keeping a little too close to a game character's clothing makes it impossible to take the material seriously.
I mean, have you seen Bob Hoskins and John Leguizamo sporting brightly colored, patch-decorated coveralls in 1993 "Super Mario Bros."? Or Scott Wolf and Mark Dacascos wearing goofy, oversized blue and red martial-arts outfits in 1994's "Double Dragon"? Or, worst of all, Jean-Claude Van Damme and his blue beret, spiky blond hair and green tank top in the abysmal "Street Fighter: The Movie," also from 1994? If you answered yes to any of those questions, you probably assumed — the moment you laid eyes on those wretchedly dressed actors — that the films were jokes worth skipping. And you were right. Filmmakers would be better served mimicking Bryan Singer's "X-Men" films (or Paul W.S. Anderson's "Resident Evil" ones), which recognized that duplicating original garb would be ridiculous, and came up with new threads that stayed faithful to the spirit of the characters' unique looks.
2. Go for stories, not gameplay gimmicks.
A game can thrive on the basis of a cool control technique, but if that's all it has to offer, then it probably hasn't got the depth necessary for a decent film. Take "Max Payne," whose bullet-time effects provided a neat gameplay twist, but looked like a lame "Matrix" rip-off on screen, making the thinness of the title's second-rate pulp-noir story all the more apprent. In the same way, while the first-person shooter POV is awfully gripping when you're the one wielding a controller, that perspective doesn't work on film, as "Doom" so painfully proved.
Even more fundamentally, games that place a premium on their interactive elements — like the challenges of complicated button-combo maneuvers — instead of story should be avoided like the plague when it comes to adaptations. This is most apparent when it comes to fighting games, which could give a hoot about plot but care deeply about hand-eye coordination. "Mortal Kombat" may have been a box office triumph when it opened in 1995, but if you can sit through the film — which also fails to adhere to the above Rule #1 — without regularly breaking into derisive laughter, you're more tolerant of bad scripting than I.
3. The character's the thing.
You need a compelling protagonist. This seems like a no-brainer, but as the history of game adaptations shows, it's a detail that escapes many. Realism need not be at the forefront of this decision — the impossibly athletic and buxom Lara Croft, for all her fighting skills and sex appeal, is not what one would dub "true to life," but does have an iconic look, at least a passing connection to a credible reality and some shred of relatable human emotion.
This means that side-scrolling heroes like Mario are out — unless you're buying that, in any universe, Italian plumbers travel through sewers, fight shelled monsters and eat giant mushrooms during quests to save princesses. So too are 2D fighters, whose peripheral backstories are usually laughably one-dimensional. The films for both "Hitman" and "Max Payne" may fail to flesh out their titular tough guys in interesting ways, but at least they capture the characters' individual styles. Better still are the "Resident Evil" films, which, recognizing the general blankness of the franchise's various user proxies, created an original heroine in Milla Jovovich's Alice, video game films' reigning badass.
4. Find directors who care.
Passion's a difficult thing to fake, and gamers — a rabidly protective bunch when it comes to their favorite properties — can smell phony enthusiasm a mile away. It's no coincidence that two of the past decade's finest adaptations came from directors with personal, rooting interests in the material. Paul W.S. Anderson is an avowed gamer, and while the aforementioned "Mortal Kombat" is no career achievement, his B-movie "Resident Evil" series exudes respect for its console origins in tone, as well as in plot and character. The same holds true for "Silent Hill," Christophe Gans' underrated 2006 movie based on the Konami survival horror franchise, which remains, to my eye, the best game adaptation to date. Gans' (and writer Roger Avary's) intimate knowledge of "Silent Hill"'s horrific creatures, fog-enshrouded netherworld setting and — most important of all — unhinged mood creeps into his unsettling film, which beautifully mimics the game's look and story while exploring some uniquely cinematic scares. It's the rare adaptation that actually understands its source material, to the point that when Gans takes small liberties with his tale's universe, it comes off as natural and reverent rather than dim and misbegotten.
5. Avoid Uwe Boll.
If you've ever seen one of director-par-incompetence Boll's game-inspired epic turds, from the nightmarishly awful "House of the Dead" to the hilariously inept "Alone in the Dark," this final rule needs no further clarification. And if you haven't, well, consider yourself fortunate.
The Sandbox, a column about the intersection of film and gaming, runs biweekly.
[Photo: "Silent Hill," TriStar Pictures, 206]