The gloves come off on Heath Ledger.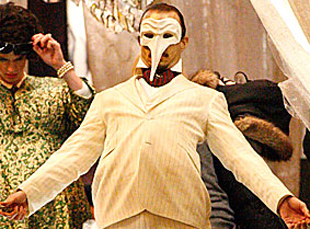 Posted by Vadim Rizov on
It had to happen eventually. The reverential haze surrounding the late Heath Ledger was bound to dispel. And it's David Thomson, critic, film historian and actor-crazed obsessive who once wrote a whole book about Nicole Kidman in which he gasped over her "gingery pubic hair," who's stepped up to bat first.
Thomson takes actors and their iconography very seriously indeed (in quasi-Penthouse style if they're female), and — on the occasion of the British release of "The Imaginarium of Doctor Parnassus," which features Ledger's last role — he expresses some skepticism about how good the Australian actor actually was.
Thomson digs the Joker more than Ennis del Mar, because during "Brokeback Mountain" he "never lost some feeling… of watching an actor attempting a very tricky role" But what he really wonders about is what would've happened if Ledger had lived on, comparing him to other once-bright stars who shot out of the gate fast, only to wind up playing themselves over and over: Mickey Rourke doing his comeback as "Mickey Rourke," Brad Pitt "overwhelmed by spurious celebrity and dreadful star parts," Pacino, De Niro and Nicholson now "pastiches of what they once were."
It's true that, for whatever reason, Hollywood tends to give actors about ten years before they've created too many recognizable tics to step outside of. Think of Robert Downey Jr., once up for the stunt part of a flawless Chaplin and somehow making it fresh, now noted primarily for playing many amusing variations on "Robert Downey Jr.": wisecracking, ahead of the comic beat by two seconds, justifiably self-regarding.
But those are the breaks. Thomson's right that Ledger, like everyone else, probably wouldn't have been able to get away with giving completely different performances in every movie. But that's hardly tragic: the ability to create a persona and mine it for subtle nuances leads to reliable pleasures.
The difference between the "tragedy" of Brando (if you want to think of that way) and actors like Downey, Pitt, and so on is that they've gotten a reliably amusing schtick down that's always fun and rewarding even when it's not surprising. Would Ledger have ended up in that purgatory? Impossible to say — he hadn't yet made two straight films in which he was the same guy, but even if he had, he'd still have had a decade to himself. If you're going to be A Star, that's how it is. If you want to be An Actor, you can be Gary Oldman, which surely has its own rewards, but is not the same thing.
[Photo: "The Imaginarium of Doctor Parnassus," Sony Pictures Classics, 2009]