The academics are running the asylum.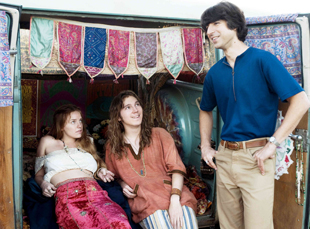 Posted by Vadim Rizov on
On her way out at Spout, Karina Longworth noted a few days ago that the film blogosphere can feel like "hundreds of traffic-chasers, who are essentially blaring the same thing, at the same time, all day long." She doesn't like it one bit. And such was the attitude Focus Features CEO/Ang Lee's screenwriter James Schamus brought to his keynote speech at the London Film Festival. Noting he preferred to skip the usual topics of "the challenges of our digital future, new distribution models, the threat of piracy, etc. etc.," Schamus proceeded to deliver a solid hour of political deconstructionist theory about his wife, steeped in Derrida, entitled "My Wife is a Terrorist: Lessons in Storytelling from the Department of Homeland Security."
This is a pretty outré thing to do at a film festival, where hushed vagaries on cross-platforming and (yes!) Our Digital Future are the order of the day. It's a weird thing to do even if you're an academic like Schamus, who writes academic monographs on Dreyer's "Gertrud" that cite Lacan and casually uses the word "imbricated" in interviews. So why is it that we're looking at the writer of "Crouching Tiger, Hidden Dragon" for this primer on what redacted Homeland Security documents can do to teach us about the changing forms of narrative rather than the medium-budget equivalent of Guy Debord?
When you look at the work Schamus has written for director Ang Lee, the overwhelming sensation is of smart people trying to work out problems they really don't have an intuitive feel for. It's all over "Hulk," whose sterile approach to translating the comic book form to a live-action narrative equivalent is amusing but academic. "Crouching Tiger, Hidden Dragon" is reasonably successful, but it's the kind of study in martial arts semiotics that Todd Haynes (the closest thing we have to a truly academic filmmaker, one whose movies are always in quotes) might admire.
I admire Schamus for having the guts to stand up and give an industry audience an hour full of stuff they never wanted to hear that couldn't be spat back out into easily digested nuggets of faux-industry wisdom or dictums. Nonetheless, imagine Schamus trying to channel all that energy into his next screenplay; he couldn't. Instead, the speech is the start of a book; Harvard University Press has first dibs. Which is what makes Schamus a not-so-great screenwriter: he's trying to play a game that isn't close to his heart. Imagine if "Taking Woodstock" were actually about the academic upheavals of the '60s, with paranoid grad students applying mirror theory to try to figure out if they were under surveillance. Then we'd really be onto something.
[Photo: "Taking Woodstock," Focus Features, 2009.]