The Tate's user-generated movie.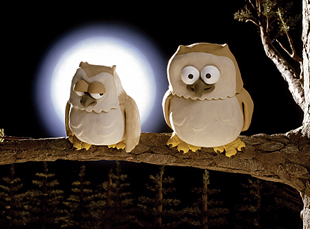 Posted by Vadim Rizov on
The Tate's not the first museum to get into moviemaking — the past year alone saw "Face," directed by Tsai Ming-Liang and commissioned by the Louvre, and Olivier Assayas' "Summer Hours," which at least started off as part of a project for the Musée d'Orsay.
But the Tate is thinking bigger and way more mainstream. It's giving Aardman Animation four million pounds for an animated film that'll be co-created by children across the UK.
The "Wallace & Gromit" folks won't just be overseeing a movie. Children will by able to attend workshops that will introduce them to drawing and animation skills, and they'll then help create a storyline, which a screenwriter will use to create a script that's "two-thirds complete, with holes in it to which children can contribute ideas," according to Aardman co-founder/chairman David Sproxton. (Example: a call for images reading "We need trees.")
Elsewhere at the Guardian, Andrew Pulver is skeptical about the low price tag and other things: "Will the workshops be much more than long-lead marketing devices? Will the final film simply be a sludge of kiddie cliches?" As he points out, the only other movie he can think of that was crowdsourced was 2008's entirely forgettable (and undistributed in the US) "Faintheart," where the voices of thousands added up to mass-approved sitcom mush.
London hopes to use the film, however it might turn out, to promote the upcoming 2012 Olympics. Even if the project fails to reach the target one million children and warp their little minds, it could still be a mass public arts project on a scale unseen in some time. At any rate, the making-of is probably going to be more interesting than the end result.
[Photo: "Creature Comforts," CBS, 2007]