"Star Wars" for classical music fans.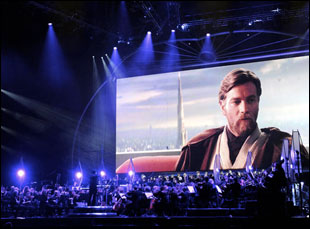 Posted by Vadim Rizov on
These are heady days for "Star Wars" nerds — today and tomorrow, "Star Wars: The Concert" arrives at Anaheim's Honda Center, preceding dates in downtown LA, around the US and, eventually, the world.
This is no ordinary concert; $35-85 gets you two hours with 86 orchestra members, a 60-voice choir, a 60×35 foot tall LED screen showing clips (presumably for those not obsessed enough to mentally match music to image), lasers, flame, smoke, original props and costumes (OMG) and lord knows what else. The orchestra's lead by Dirk Brossé, a Belgian conductor who once wrote the music for a "Sacco and Vanzetti" musical, which obviously makes him perfectly qualified. Somewhere, KISS are nodding in admiration.
At the Los Angeles Times, John Horn has a write-up that makes note of the three target markets for such an admirably vulgar spectacle: "Wars" devotees, the kind of elderly rocker who wants a return to Deep Purple's glory days, and "a distant third, classical music aficionados."
"Distant," I'd say, is a total understatement — after a youth spent chaperoned to countless classical music concerts by cultured parents , I can tell you that even one microphone can be cause for distress (unless we're talking about George Crumb's absolutely terrifying "Black Angels" piece for "electric string quartet"). 12 trucks of equipment might send a classical music buff into shock.
That said, many of the big film score composers were classically trained: Erich Wolfgang Korngold — who wrote the brassy score for the classic "The Adventures Of Robin Hood" — was dubbed a genius by Mahler. John Williams came up with the idea for 14 million different themes — one for each character, one for the Death Star, etc. — by borrowing Wagner's "leitmotifs," which were conceived for his 12-hour, four-opera cycle "Der Ring des Nibelungen," which is about…a ring that can give you power over the entire world. Which (depending on who you believe) was or wasn't an influence on "Lord Of The Rings," which all those many years later was turned into a symphony from Howard Shore's score — hey, full circle.
[Photo: "Star Wars in Concert," Lucasfilm, 2009]