Speak of the Devil: The Many Faces of Cinematic Satanism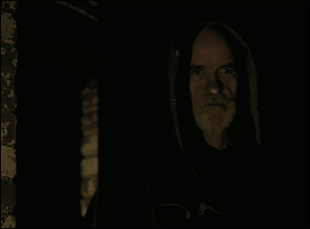 Posted by Matt Singer on
The Bible says that Satan "masquerades as an angel of light. In popular culture, we tend to think of him as a big red dude with horns and a pitchfork, or as a talking snake, or as Al Pacino in an Armani suit. The devil, in other words, comes in many different forms. And his followers come in just as many. Unlike a lot of other horror movie staples, there's no visual archetype for satanists. We recognize a vampire when we see his fangs and a zombie by the rotting flesh, but a Satan-worshipper? Tougher to spot.
In the new indie horror film "The House of the Devil," an unknowing teenager looking to make some quick cash is lured into a babysitting job by a crew of weirdos who are ultimately revealed to be devil worshippers (not a spoiler, folks, look at the title). This particular coven of satanists are a bunch of suburban eccentrics, living in their creepy old house, speaking quietly and persuasively.
If the movie makes you worry about satanists (and I'm talking murderous cinematic satanists, not contemporary religious ones) lurking amongst us in society, I have bad news for you: according to the movies, they really are everywhere, and they're awfully hard to spot until they're using your body for a piñata. As a public service to help people identify blood-drinking devil worshippers in a more timely fashion, here's a list of just a few of the different ways satanists have appeared onscreen.
As Refined Greenwich Village Socialites
In Mark Robson's "The 7th Victim" (1943)
The few tried-and-true hallmarks of movie satanists — unholy rituals, chanting, drinking blood, sadistic brutality against non-believers — are almost completely absent in this film from famed horror producer Val Lewton. A young girl at boarding school named Mary (Kim Hunter) learns her sister has stopped paying her tuition, and heads to New York City to figure out why. Mary can't find her sister, but the trail of breadcrumbs eventually leads to a group called The Palladists, a cult that's a study in contradictions: they worship Satan, but preach non-violence. They hang out in Greenwich Village, but they're all well-dressed, middle-aged urbanites. Eventually, they do get their hands on Mary's sister, but they don't sacrifice her; they sit her down at a table with a cup of poison and peer-pressure her into drinking it.
Clearly, what we have here are some satanists with their hands tied by the strict morality and violence guidelines of the Hays Production Code. Unless you find the idea of sharply dressed white people alarming, this is not a particularly horrifying bunch, though director Mark Robson does use the Palladists' beliefs as the basis for one terrific shot. Fearing Mary is getting too close to the truth, the cult sends one of their members to intimidate her, which she does while Mary is taking a shower. We never see the cultist's face, just a shadow on the shower curtain, one that bears an unmistakably devilish shape.
As Nosy Neighbors
In Roman Polanski's "Rosemary's Baby" (1968)
Since satanic cults worship the devil, and the devil is the embodiment of evil, films about satanists force us to consider what the embodiment of evil looks like. In the case of "Rosemary's Baby," evil is personified by the old couple across the hall who are incapable of minding their own business. Young marrieds Guy and Rosemary Woodhouse (John Cassavetes and Mia Farrow) think they've found the perfect New York apartment: big, cheap and in a great location. There's just one problem: nosy neighbors Minnie and Roman Castevet (Ruth Gordon and Sidney Blackmer), who are constantly sticking their noses where they don't belong.
When Rosemary gets pregnant, they insist she use the obstetrician they recommend; when Rosemary wants to take pre-natal vitamins, Minnie forces her to drink a daily herbal smoothie. And sure, they seem to mean well, but they become so controlling Rosemary starts to wonder; why do they care so much? Could it be… Satan? As in "The 7th Victim," the satanic cult's membership is predominantly older, white, and upper class, though this particular organization is larger and more conspiratorial, with bigger goals and more powerful means at their disposal. It's particularly upsetting how easily — and how quickly — they are able to turn husband against wife with promises of undeserved career success, and how no one around Rosemary notices the sad fates that befall anyone who gets curious about the Castevets. If only good people were as nosy as Roman and Minnie.
As Rabid Hippies
In David E. Durston's "I Drink Your Blood" (1970)
"Let it be known, sons and daughters, that Satan was an acid head!" says Horace Bones (Bhaskar), the leader of a band of hippie Lucifer lovers. True to his confused but sincerely held beliefs, Bones and the rest of his motley crew — including a pregnant girl in an obvious wig, a mute teenager, and a middle-aged Asian woman — drop acid, freak out, and sacrifice farm animals to their dark, tie-dyed lord. Bones and his gang don't murder people so much as they just rough them up, probably because they're too high to know the difference. One of their victims is a teenage girl who witnesses one of their rituals; when her younger brother finds out what they did to her, he retaliates by feeding the hippies a batch of meat pies poisoned with rabid dog blood. Soon, they're all foaming at the mouth and running amok through the town, killing some of the people they encounter and sickening the rest with rabies. "I Drink Your Blood" is low-rent grindhouse cinema, with dialogue and acting as laughable as you'd expect — not to mention a story that requires a ten-year-old boy to draw a syringe full of blood from a dead dog and then inject it unnoticed into a dozen meat pies — but the idea of satanism as an infection spread from one confused young person to the next is a perfectly paranoid metaphor for the early 1970s, when folks were scared shitless of crazy hippies thanks to Charles Manson and his deranged Family.