Scientology whack job: Paul Haggis' scathing resignation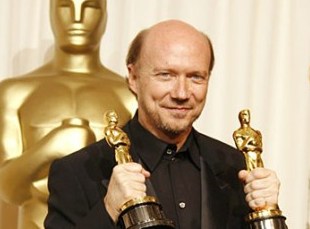 Posted by Brandon Kim on
It's hard enough to wrap my head around the complexities of Earth based religions – and I studied theology for four years in a Jesuit high school. Sometimes Space based religions seem simpler by comparison. Mormons take their guidance from the writings of extra-terrestrial beings and wear sacred underwear. So what? Many Jews wear fur donuts on their heads and Christians think it Holy to drink the blood and eat the body of their savior. But the Church of Scientology takes the far out prize (even if it was founded on this planet in New Jersey).
Over the weekend, Writer/director Paul Haggis ("Crash," "In the Valley of Elah," "Casino Royale") dropped a bomb on Scientology the likes of which they have not seen since Xenu "gathered up all the overpopulation in this sector of the galaxy, brought them to Earth and then exterminated" them atop a giant volcano by blowing the shit out of it with hydrogen bombs 75 million years ago. Old Xenu had a flair for the dramatic overkill [xenu.net]. Well after 35 years, Haggis had finally had enough. His main gripe is the church's apparent support of California's Proposition 8, which banned gay marriage.
In his resignation letter to Church of Scientology figurehead and intergalactic sociopath, Tommy Davis, Haggis called out the San Diego chapter of the church in sponsoring the proposition and charged the alien minions with fostering "bigotry and intolerance, homophobia and fear."
He also took exception with the church directing his wife to disconnect contact with her parents over some perceived offense they committed 25 years ago, and Davis' smear campaign against other former members of the church wherein he revealed what were supposed to be private and sacred confessionals made by them [eonline].
"Crash" was a real piece of garbage but Haggis himself is clearly not. Way to go man, even if it took you 35 years! Write more stuff with Clint Eastwood, he may be the only one who can protect you now.
Watch Davis storm out of an ABC interview.
Read more including Haggis' letter.